0
the day after Christmas, i woke up in the early morning to drive my dad to the airport. Taja came along too, hopping in the back of the old SUV and yawning with wonder. approaching SFO in the dark, we reveled in the dazzling holiday lights decorating the airport's trees and buildings. it looked like such a big job that my dad remarked, "they probably never take them down. easier to leave them up all year and just turn them on in December." i just shook my head, too sleepy to disagree.
back at the house and still in darkness, i logged into my computer to knock out some last-minute work. i did the bare minimum, and then glanced at Taja on the carpet next to me, sleepily wondering where the night went. her eyes provided all the argument i needed, so we returned to Natalie in bed.
well-rested, my love and i awoke, showered, and cruised to San Mateo for breakfast with my old buddies, Tori and Adam, plus their lovers, Tim and Kelly. we spent about 10% of the triple couple brunch date trying to find a restaurant that would seat the six of us relatively quickly, eventually settling on Nini's Coffee Shop, a cozy little diner on the corner of a quiet suburban intersection near the freeway. we spent 50% of the date standing on the corner, sipping complimentary coffee and slowly drifting into the empty street. laughing, joking, poking fun, we spent the last 40% of our time struggling over the menu and downing our meals.
in the afternoon, i revisited SFO to take my mom to work. for my part, i did some more work at home. then Natalie and i finished up our last-minute packing, ate a humble dinner, and watched a bizarre documentary on PBS called Seeking Asian Female.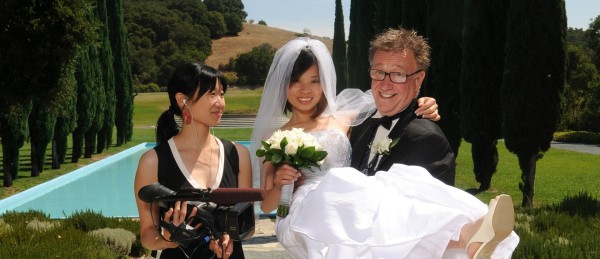 peculiar as its plot may be—following a yellow fever-stricken man's quest for a Chinese bride—the movie felt even weirder as it took place here in the Bay Area. in fact, the guy lived in Burlingame and worked at SFO, so it's possible i could have seen him earlier in the day.
finally, midnight approaching, i made my third and final trip of the day to SFO—this time with Natalie instead of Taja. my mom, always eager to take the opportunity to see travelers off, met up with us and offered to treat us to dinner. but what to eat? Japanese, Mexican, American, or Chinese? Natalie quickly decided on the first, but my mom and i circled and circled among the others, trying to find somebody still selling soup. eventually, we settled on something. eventually, we made it to the gate. and, eventually i assume, once we had safely ducked out of sight, my mama headed home.
~ 1 ~
Natalie and i were not headed home. we headed to a place where we knew not a soul.
me being me, i scrolled down my library of albums to find the first album listed where "Jamaica" would be. the result: "Jambalaya (On the Bayou)" by Hank Williams With His Drifting Cowboys. well, that decided it, so i put all my Hank on shuffle and closed my eyes.
but i didn't sleep. while Hank crooned his characteristic honky tonk, the airplane ferrying us across the country rumbled and raged in a dark storm tens of thousands of feet in the air. i dipped in and out of consciousness, at one point peering at the blinding flashlights of flight attendants creeping down the aisle hawking drinks and snacks. United Airlines: a terrible experience from purchase confirmation to final arrival.
the United Club, on the other hand, proved a real pleasure. my mom had gifted us a couple passes granting us two plebeians access to the secret abode of the one percent. we nestled into one corner of the club, occasionally getting up to retrieve plates of free food or complimentary alcoholic beverages from the bar, all while trying to ignore the omnipresent noise of CNN dissecting the U.S. decision to abstain from voting on (and thereby allowing the passage of) a U.N. Security Council resolution condemning Israeli settlement construction. Netenyahu was pissed. Obama was like, dude, don't act so surprised. Trump was somewhere vomiting on babies. and i floated on the edge of sleep.
speaking of babies, so many flew to Jamaica with us. thankfully, they were already hella chilled out, and the flight was a quick one.
in the broad customs hall at Sangster International Airport, the very first Jamaican woman to speak to me didn't really speak to me. she mostly just looked in my direction while speaking about me to her colleagues: "it's not fair," she said. "he's not even using it!" referencing my hair. i laughed and laughed, wondering aloud how i could possibly use it anymore aside from wearing it on my head everywhere i went for a decade.
after settling customs with the same, stern face you find behind the counter in every country, we walked through the sliding doors to be instantly accosted by a half dozen taxi drivers. thinking it'd make us seem a bit more cool and confident, i led Natalie across the room as if we weren't quite ready to go along with just anybody. as if we knew how to pick a good ride. one of the drivers persisted, and yet he also seemed chill, so we followed him. he walked slow as hell out of the building, across the street, toward a line of cars, and yet he told me to speed it up like i was the one lagging.
"we grow up w weed," he said to us not a minute into our journey. "you let me know if you need any."
"i thought it was illegal," i said.
"no, mon," said the driver. "we grow up with it. it's a part of life. small amounts are okay. you want me to get you some?"
"you're not a cop, are you?" asked Natalie.
"no, mon. do i look like a cop?"
Natalie and i looked at each other, both of us imagining what my mom would say when she found out that we'd been arrested within 30 minutes of entering Jamaica after trying to purchase weed from the very first person that propositioned us—our cabbie. as it turned out, his guy was out. tough luck.
not even a 10-minute drive from the airport, we arrived at our home for the night: Caribic House, a dingy little hotel right on the main tourist strip in Montego Bay. the clerk was a true gentleman who guided us to our room on the third floor.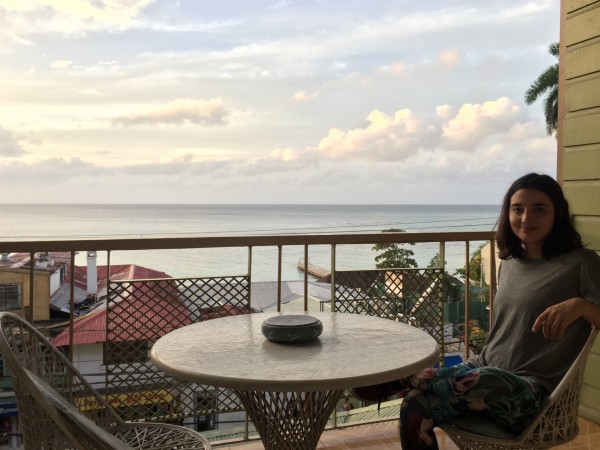 we needed food, so we descended to the street and walked around. tourist strip it was: every five feet stood another souvenir shop owner enticing anyone and everyone inside to survey their wide selection of t-shirts, magnets, and other junk made in China. one of these men, a bit more enterprising than the rest, asked if we needed any weed. after the near-success earlier, i felt emboldened, so i expressed interest. he showed me a little baggy and said it was US$30.
"no way," i said with clear Californian wisdom. "i wouldn't pay more than $20 for that."
"okay, you got it," he said. i felt nervous about handling the exchange on the street, so he indulged me by inviting us into the comfort of the shop for a safe, clean deal. all the better for him, he could then try to sell me some rum and t-shirts too.
but Natalie and i quickly left, continuing our way down the street, feeling good about not getting arrested. on and on we went, politely acknowledging and yet declining all the men and women that would holler at us from the fronts of their souvenir shops.
"hey mon, come inside, take a look!"
"Rastaman!"
"come on, mon, have a look."
after we refused to enter her shop, one woman very sweetly asked if she could braid my hair. i declined, but then asked for a food recommendation.
"Pork Pit," she offered. "and then i'll braid your hair on the way back."
we went to the Pork Pit with nothing but American dollars, so the clerk made clear to us that we would be getting a bad conversion rate. but we were too hungry and jet-lagged to care about getting ripped off. those same mental effects led us to only order a 1/4 pound of chicken between the two of us, which vanished in no time at all, so i returned to the counter to order a second round: another 1/4 pound of chicken, fried plantains, and a delicious little treat called "festival" (basically fried dough).
on the way back to our hotel, most shops had closed or were closing, so less people hassled us—except for a random bedraggled vagrant who pleaded that i buy some weed from him. right in the middle of the street, he unwrapped this sad little wad and demanded that i take as much as i wanted and give whatever i could afford. i lied to him that i had so little cash it wouldn't be worth it, but he insisted. i'd decided that i'd been ripped off by the first dealer, so i paid it forward: for nearly the same amount i paid US$20 for earlier, i gave the vagrant J$200 (a little over US$1). he looked at me in disgust.
at Caribic, Natalie and i smoked on the balcony, and then drifted into the sing-song night.
~~ 2 ~~
in the morning, we packed our bags and strolled to the Mocha Cafe for breakfast. after ordering, i returned solo to Caribic because we'd seen an ATM; i withdrew some Jamaican dollars and then doubled back to the restaurant for my typical American meal.
the $15 cab ride from the airport to the hotel had seemed excessive for the trip duration, so we started a habit of asking locals for approximate cab fares. that's how we hailed a quick and cheap cab ride (shared with some locals) to the Knutsford Express station in Montego Bay.
Knutsford Express, as we quickly learned, is the best way to get around Jamaica since it conveniently connects most major towns. it's inexpensive, it's reliable, and it's quality. our first trip, from Montego Bay to Negril, took no more than a couple hours.
déjà vu, a slew of taxi drivers immediately accosted us  as we stepped off the bus. we'd done little research, so we didn't know exactly the distance to the hostel or even the direction, so eventually we conceded to one of the more persistent cabbies. déjà vu, i opened the shoe box sitting beside me in the passenger seat to find three lovely stalks of what the driver dubbed "Blue Cheese."
"take as much as you like," he said.
"how much?" i asked. Natalie rolled her eyes.
i broke off a piece about the same size as the first two purchases, and offered the driver US$5. the Goldilocks deal. done and done.
as we strolled into the Yoga Centre—probably less than half a mile from the Knutsford Express Station—Natalie fumed.
"we can't take taxis everywhere. and you have to stop buying weed!"
"but it's quality!"
she cooled off quickly thanks to the serenity of the Yoga Centre. the place appeared indifferently arranged—a wide lawn here, a curving path there, a shabby shack here, a humble kitchen there. and yet this indifference lent the place charm. it helped that, though the sun shone brilliantly, the Centre flourished abundantly green in all directions, with tall trees and short huts providing equally ample opportunities for shade. with the warm breeze blowing and the street noise seemingly miles away, the place felt, fittingly, like the perfect spot to practice yoga.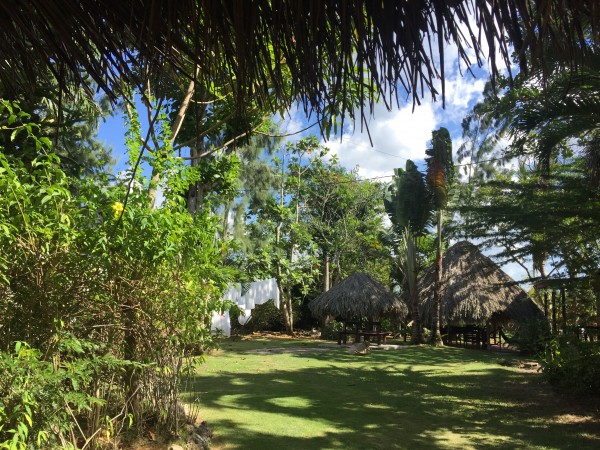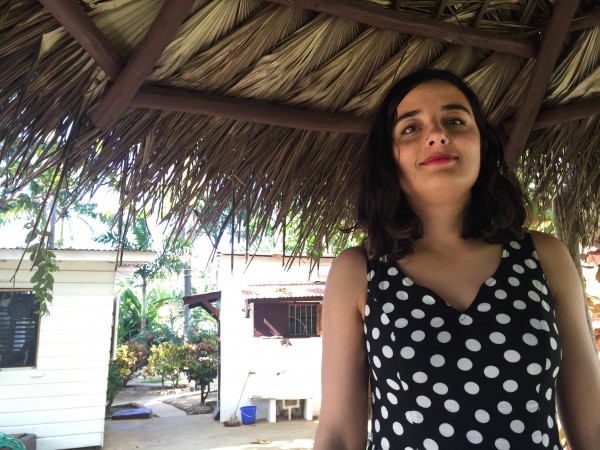 after we'd settled in and eaten a small lunch, Natalie and i went for a walk across the street to Seven Mile Beach, supposedly one of Jamaica's main tourist attractions. and you could see why. an endless row of restaurants, bars, and hotels behind you, soft white sand to your sides, and pure blue sea ahead. as we strolled the beach, the occasional peddler would stop us, and i still acquiesced too easily. i hadn't yet learned the firm decline. right before we picked a spot to lounge in, an old man offered me mango. i lied that i had no cash, but he insisted i try a free sample. the Trader Joe's customer in me, raised on Costco, couldn't say no: i reached out, ate a piece, and moved on. as with the second weed transaction one day earlier, the old man looked at me baffled.
"you'll eat my fruit and not purchase any?" he asked in exasperation.
baffled by the rules of engagement, i moved on, joining Natalie in the sand to watch the sunset. as we sat and smoked, a lanky German dude about our age trotted up and squat in the sand next to us, initiating meager conversation. he seemed starved for society, and we soon learned why. he had come to Negril to spend two weeks with his good friend. but they couldn't do much because his friend couldn't leave his wheelchair. so, as it was, they had already spent several days on the beach in Negril, and had over a week left of the same. the German seemed somewhat saddened by this purgatory, and yet, ironically, it is the very stuff of Caribbean dreams: leave your weary life for two weeks. sit on the beach. drink a beer. dip in the sea. eat some fruit, eat some meat. drink some rum, dip in the sea. have a smoke. go to sleep. repeat. repeat. repeat.
the German's disappointment served as reminder that Natalie and i did well not to saturate our trip w beach days. even tropical paradises have more to offer than sea and sand.
our friend went on his way, and so did we. instead of backtracking along the beach and crossing the street straight to our hostel, we went to the street first. a bit on the high side and dropped in an unfamiliar location, my face must've expressed pure confusion. cabbies honked incessantly trying to earn our fare, but we didn't have far to go. still, the contrast between the beach and the street felt stark: one minute you're chilling on the white sand, breathing in the warm breeze, the next you're navigating potholes and trying not to get killed. the difference fifty feet makes.
we figured it out: one side of the street (the side further from the beach) actually has a nicely paved sidewalk for bikers and pedestrians, so that's the place to walk. on the way home, we swung by a corner store to pick up some snacks, a small bottle of rum, and coke.
before snacking though, we changed into workout gear and made our way to the outdoor studio to partake in the center's namesake. sloping down into the high, Natalie and i were the only two present for evening yoga. the teacher didn't seem to mind. lovely soul, she took her time with me while letting Natalie easily glide through the poses. at the end of the session, she recommended a restaurant (because, with printed prices, they won't screw you over), and she also gave a general tip that aided me the rest of the trip:
"do what you wanna do. if someone tries to talk to you, then do what you wanna do. if you wanna talk to them, then stop and talk to them. if you don't wanna talk, then say no thank you and move on."
basically, be confident. be direct. know thyself.
refreshed and blessed, we returned to our shack to take a shower and enjoy a couple cocktails. interesting little place our temporary home: large enough for a small family, the single room included two twin beds on the ground floor and a ladder leading up to a slim full bed in the loft. a thin wall separated us from another room under the same roof, and that room happened to house a couple with their infant. Natalie and i would either hear the thing gurgling and laughing or we would be tiptoeing around in deadly fear of waking it.
our cocktails downed, we made our way to the street for a walk to dinner. we walked and walked and walked along that paved sidewalk until we thought maybe we'd walked too far, and then we walked a whole lot more. finally, we asked somebody and confirmed we had walked too far, so we turned back and eventually found the yoga teacher's recommendation, Alfred's Ocean Palace. i believe i had the fish of the day, though i can't quite remember now. i mostly just remember the great vibes. the place brought in a medley of white and black folks, and we all enjoyed our drinks and food right smack on the beach.
after dinner, Natalie and i slowly rolled ourselves back to the hostel. in the final stretch, we couldn't resist a tiny outdoor bar called the Sunrise. we pulled up and ordered a couple drinks while attempting to understand the cricket game on TV. it proved interesting enough to keep us for a second round, and then we went home to sleep.
~~~ 3 ~~~
for breakfast we shared smoothies and traditional Jamaican fare at the Yoga Centre. it was one of just two days in Jamaica where we'd do the typical tourist thing: sit on the beach, drink beer, read books.
two books dominated my trip. the first was Walking in Ice, which Natalie had gifted to me for Christmas because she knew how much i'd fallen in love with Werner Herzog. the short text consisted of diary entries the famous German director wrote while literally walking on foot from Munich to Paris between November and December. his walk, he had hoped, would put off the supposedly impending death of German film historian Lotte H. Eisner. typical of Herzog and appropriate given the circumstances, death and cold enfolded the work.
the second book i'd inherited from Natalie: Americanah by Chimamanda Ngozi Adichie. a Nigerian writer, Adichie may be most famous for her TED talk We should all be feminists, but it became immediately clear to me that she's a fantastic writer of fiction too.
as i traveled around the little island of Jamaica, my mind would bounce between the sweltering heat of Lagos, the sterile calm of academic America, and the grungy, snowy countryside of western Europe. and so i bounced as i lay on Seven Mile Beach in Negril.
one cannot lay too long on the beach in Jamaica without a swim. the sun and humidity demand it. i left Natalie and stepped slowly into the sea. though not cold, it didn't feel quite as warm as i had expected. i reminded myself that December in Jamaica is still December in North America, and so winter still held court. but compared to the frigid waters of the San Francisco Bay, of course, the Caribbean felt like a heated swimming pool. the comparison works another way too: while California waves crash upon their shores in a fury that had inflamed over thousands of miles of ocean, the Caribbean creeps up to the shore like a deferential lake.
whatever aspirations i had for surfing or even boogieboarding quietly dissolved as i drifted deeper into the sea, moving my limbs to stay warm or diving underneath to see what creatures i could spy. the people around me ranged in appearance from black to white and spoke more tongues than i could recognize. like a cosmopolitan city intersection, Seven Mile Beach stirred up a medley of the world.
having read enough, having swum enough, having downed the day's first Red Stripe, i joined Natalie on a search for a bite before the day's yoga session. a Vietnamese/Thai restaurant had caught our eye the day before, so we hunted it down.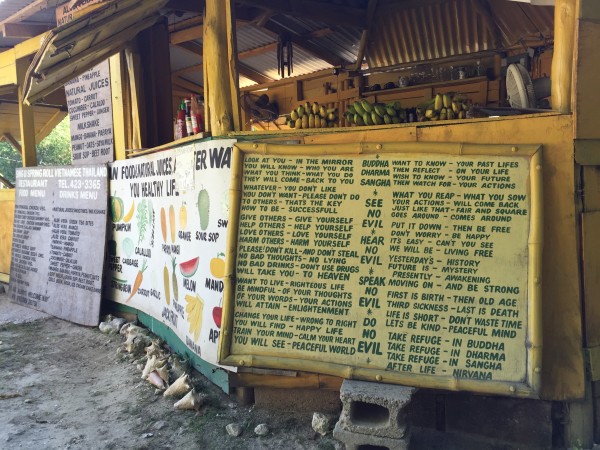 we split spring rolls and a papaya salad, freshly prepared and delicious. not in a bad way, both items seemed to be infused with the ingredients available in Jamaica. as with the Yoga Centre, the restaurant and the woman running it exuded calm.
sadly, our post-lunch yoga session never happened, as the instructor decided not to show up. curiously, she'd highly encouraged us the day before to attend the morning session; perhaps she had been trying to warn us. uncomplaining, Natalie napped while i continued reading Americanah.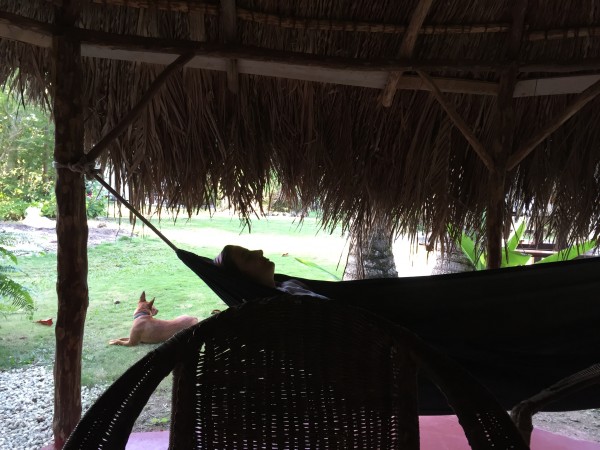 in the evening, Natalie and i repeated our walk down the boulevard of bars, restaurants, and local people yelling "Rastaman!" we had evolved somewhat, could stand firmer ground, though at one point i apparently offended a Jamaican geezer who perhaps had something he really wanted to say to me. i declined to stop, but i nodded humbly and said "respect," but he scowled at me and said, "no respect for you."
not all run-ins with people peddling wares (or whatever else) went so roughly. earlier in the day, a guy on a scooter with his lady seated behind him pulled up to us and said, "hey, what's up, mon?" to which Natalie instantly replied, "no thank you." the guy, taken off-guard by her natural briskness, said, "what's wrong?" Natalie, already walking away, turned back and said, "it's nothing personal!" we all laughed at her aplomb.
the evening confrontation with the geezer i brushed off with a beer at the One Love bar, where the lovely lady running the place had hollered at us the day before. the music sounded good and the vibe felt right, so we had to check it out. it mostly catered to tourists. the white couple to my left looked like a lot of them: either sleepy, stoned, or simply dazed by the sun. the girl gave us a recommendation for dinner but we ignored it because the place seemed overpriced and touristy. instead, we followed some random Jamaican dude on the street who guaranteed to lead us to a "sweet spot." so it was called. it wasn't great, but i got to try curried conch (a rubbery shellfish) w peas & rice (basically the Jamaican version of gallo pinto).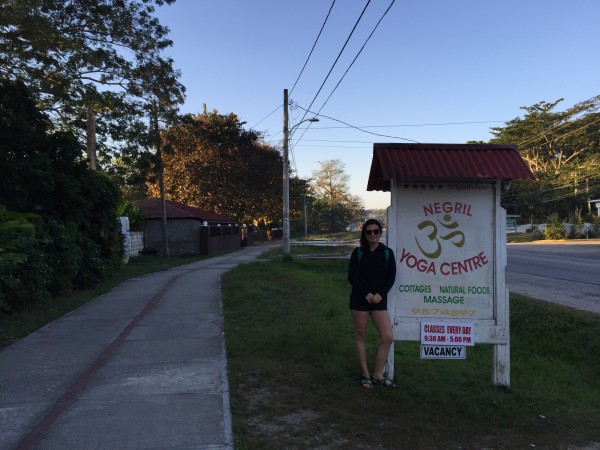 ~~~~ 4 ~~~~
in the morning, we said goodbye to the Yoga Centre and Negril. at the Knutsford Express station, we boarded the bus heading south out of town and then east to Kingston. for the first hour of the ride, the driver whizzed the juggernaut maniacally down tiny, winding roads, narrowly avoiding steep cliffs and lucky cyclists. i couldn't believe some of the turns nor the passes he made. he did just fine, but i still savored the short break we took along the way.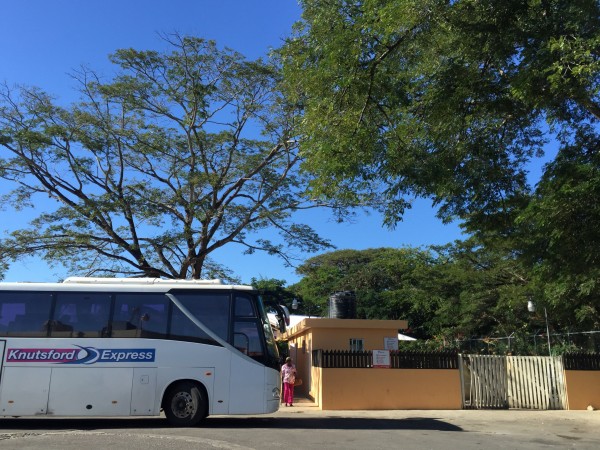 the second half of the ride involved climbing over mountain after mountain. Natalie and i kept estimating that this one must be the Blue Mountains, that we would finally be approaching Kingston. but amazingly the ridges kept coming.
at last, after about four hours, we arrived in Kingston, Jamaica's capital. the big city.
Kingston marked the splurging portion of our trip. even before my mom proposed the idea, i had booked the most expensive hotel in the city as a birthday gift to Natalie. we took a quick taxi from the bus station to the hotel, where concierge served us complimentary rum punch on arrival.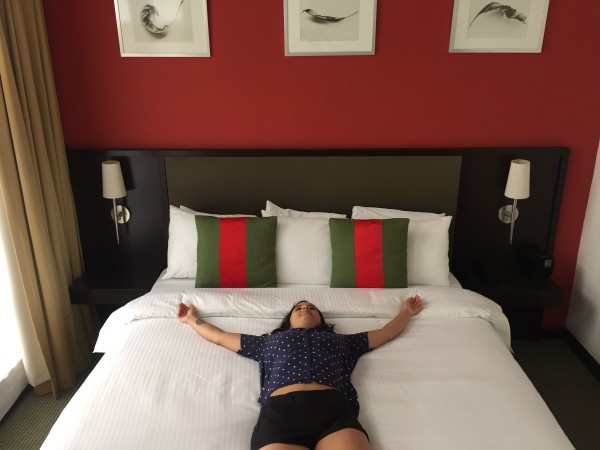 though not especially grandiose, our room featured high ceilings and a massive bathtub. we didn't mind the ground level view of the parking lot outside the window. i handed Natalie the brochure for the spa and asked her to pick whatever she wanted—happy birthday part two. a simple lady, she just asked for "chic in the city," a classic mani and pedi. i called up the spa and made the reservation.
with some time to kill before her session, we agreed to walk to Devon House. poor decision that, as we soon found ourselves trudging through a monsoon. and besides, what white people walk around Kingston? we do. and we did fine, though rain-soaked Natalie got a bit angry. we eventually reached the massive property, which had originally been established as residence for George Stiebel, Jamaica's first black millionaire. i borrow Wikipedia's pointed use of the word "black" because the history of North American wealth is crawling with white men who built their millions on the backs of black labor. today, Devon House serves as a monument of a mansion complete with gardens and shops for tourists and locals alike to explore.
Natalie cooled off with a coffee, and then i stood in the long, crowded line for I-Scream, which has won worldwide accolades. we then wandered the gardens briefly, enjoying each other's company and monitoring the sky for the next set of buckets.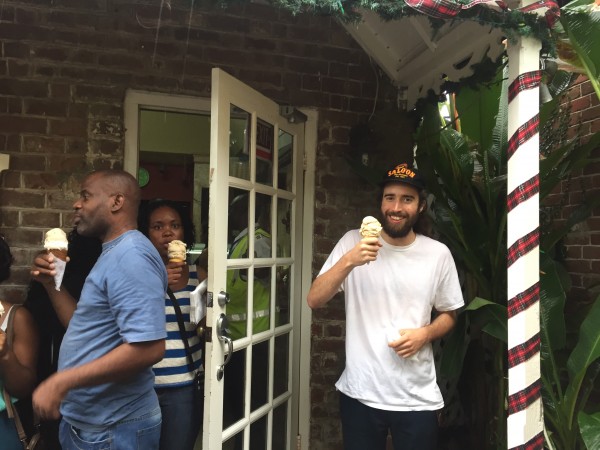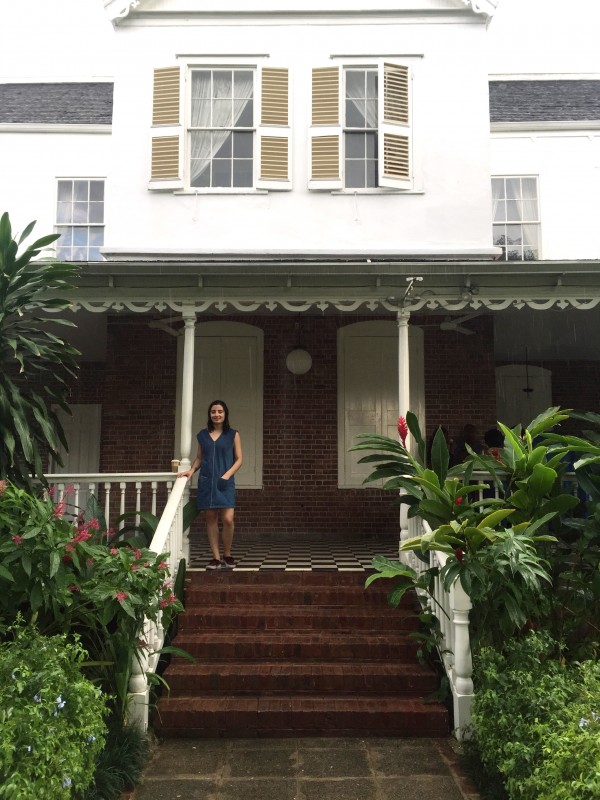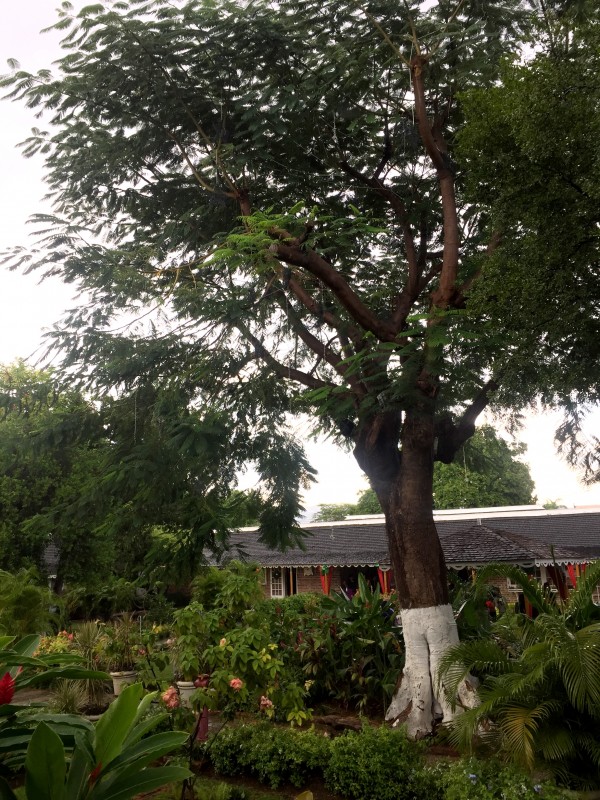 the rain lightened though, so we made our way back to the hotel. then Natalie went off to get chic.
in the evening, we acted as fools do. we'd decided to dine at an Indian restaurant called "Nirvanna," and i couldn't help but notice its proximity. so we walked the 1.5 km (about a mile). in the dark. down some questionable streets. halfway, an old woman seated on the curb surrounded by piles of junk asked, with deep concern in her voice, where we were going. as i mentioned earlier, white people don't walk around Kingston.
in spite of the questionable decision, we made it to the restaurant unscathed, so we celebrated with a massive feast of our favorite, spiciest Indian dishes.
on the way back to the hotel, we fared no better—and no worse. we vainly searched the street for a free taxi but could find none. we walked to a busy intersection nearby, but that did us no better: all the cars there already had passengers. suddenly, a man selling flowers to drivers at the stoplight noticed us and asked if we needed a taxi. thinking he'd help us hail one, we answered in the affirmative. "follow me," he said, as he led us to a trashed jalopy parked on the sidewalk. he hopped into the driver's side and we got in the back, too fat and content to think it a big deal.
that 1.5 km drive back to the hotel was one of the wildest rides of our lives—perhaps even more dangerous than the earlier walk. but we made it back in one piece, and cheaply too!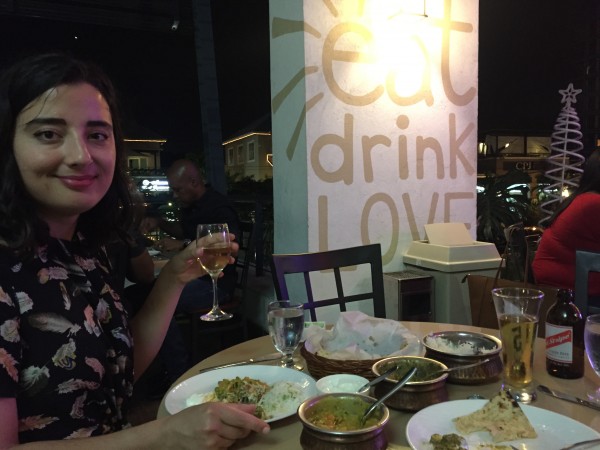 ~~~~~ 5 ~~~~~
in the morning, we indulged in a safe, free breakfast at the Spanish Court. i went with a medley of American and Jamaican cuisines, downing scrambled eggs, plantains, festival, bacon, fruit, coffee, and water.
for our only full day in Kingston, Natalie and i immediately ruled out running around trying to do every little thing. we considered the Bob Marley Museum—highly rated on TripAdvisor and the most obvious attraction—but then decided against it as a $20 per person tourist trap. "museum" rang in our heads though, so in our search we discovered the National Gallery of Jamaica.
we took a real taxi to the museum, located in the southern part of the city, the commercial and cultural center on Kingston harbor. our driver conversed freely, telling us how he used to farm yams in the countryside. farming's hard work, however, and your livelihood depends so much on harvesting good crops every season. making money ferrying people around the city offers a bit more stability.
to our relief, the gallery didn't close for New Years' Eve. and yet, we had the whole place to ourselves. nicely sized, the two-story tall gallery features art from pre-colonial Jamaica through the modern day. we received a decent history lesson, starting with pieces by the indigenous Taíno people who populated Jamaica, other Caribbean lands, and Florida before Christopher Columbus ruined everything in 1492. next came art by colonial Europeans and Jamaicans, including some sharply satirical pieces belittling the aristocrats for making slaves do everything for them, down to picking up things they've dropped on the floor. the special exhibition focused on "Spiritual Yards," explained by the Gallery here:
The theme of Spiritual Yards was proposed by Wayne Cox, who co-curated this exhibition, and explores how many of the artists who have been recognized as Intuitives are rooted in popular religious and spiritual practices, especially the Revival religions and also Rastafari. Several produced or contributed to so-called spiritual yards, also known as home ground, or sacred spaces that featured ritual and symbolic objects and images that are meant to engage or represent the spirits, which was either the start of their artistic practice or remained as its main focus.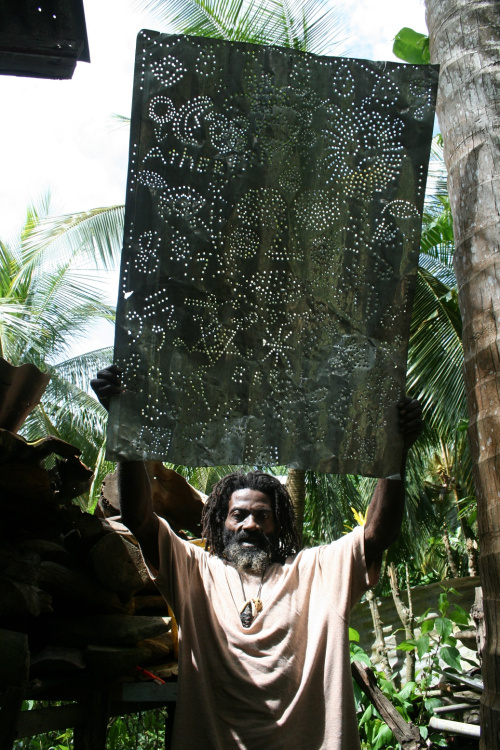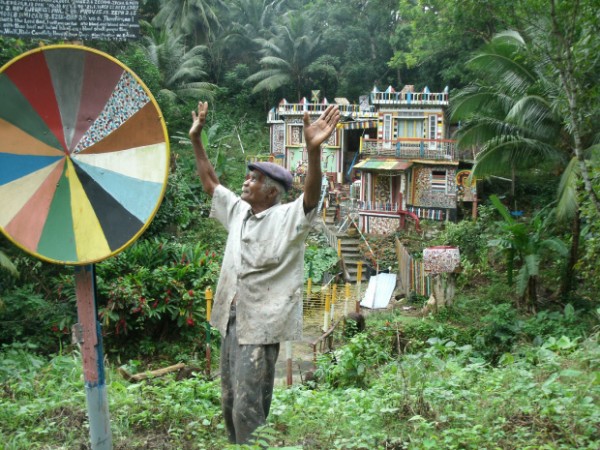 Natalie and i also fell in love with Barrington Watson: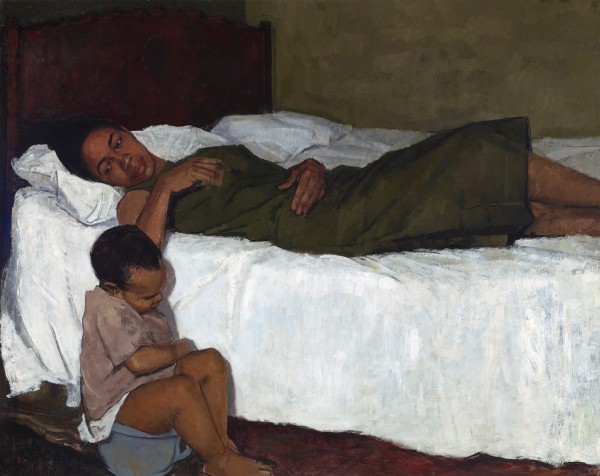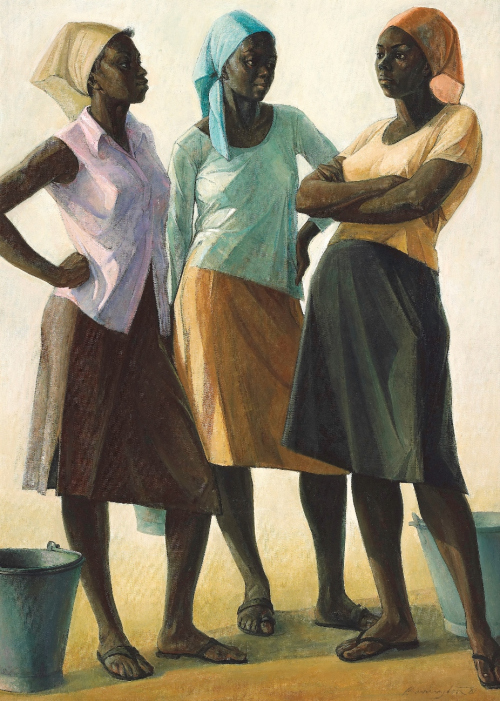 we purchased a couple small prints, and then emerged into the blazing afternoon sun. with no destination in particular, we wandered north on foot until we found ourselves in a bustling marketplace—downtown Kingston. sidewalks and alley burst with shops and people, cars streaming through the street, and the hot, hot sun beaming its proud heat onto everything and everyone. we walked and walked, dazed and intrigued, until the heat got the better of us. we hailed a taxi back to the Spanish Court.
at the hotel, Natalie went for a run on the treadmill while i spent 15 minutes with concierge—or, rather, the lovely angel named Tashanna spent 15 minutes with me, patiently finding a taxi that would willingly drive Natalie and me up to our New Years' Eve party that evening. then i walked to Knutsford Express to purchase advance tickets to Ocho Rios.
logistics mostly settled, i changed into my swimsuit and took a few laps in the infinity pool atop the Spanish Court's roof. rain clouds blocked most of the sky, including the sun, so i mostly froze my ass off swimming back and forth in the pool. but i've never been able to visit a hotel without swimming in their pool at least once. afterwards, my love and i took a hot bath. refreshing as hell. privileged and decadent, i then showered after the bath to make sure my hair got a good washing. we dressed decently to inaugurate the new year, and then returned to the Spanish Court's restaurant for dinner. we struggled to find anything Natalie could eat, but we figured it out.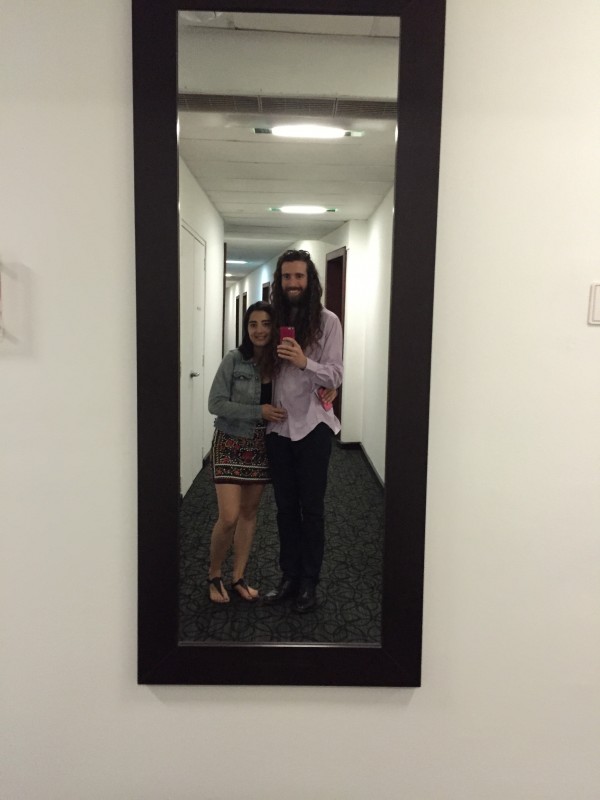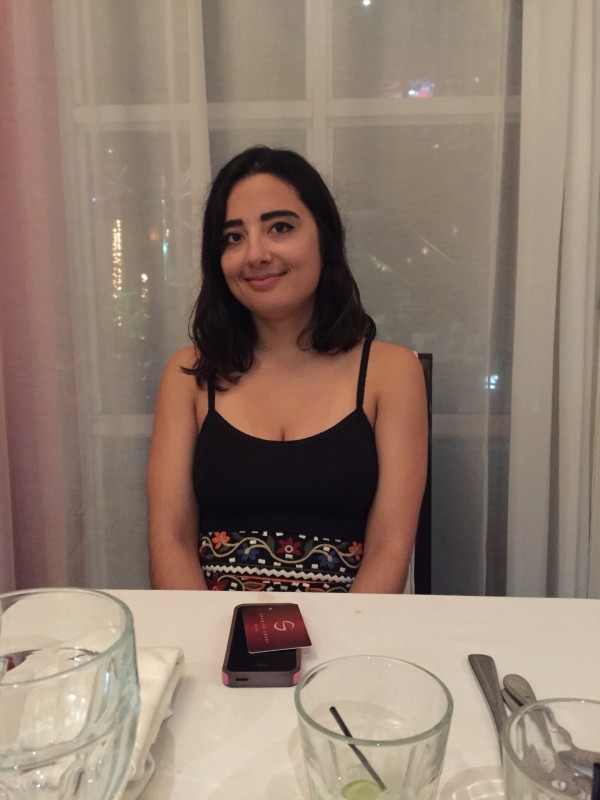 one more drink to warm us for the night, and then we grabbed our taxi to Dub Club. though it didn't go quite as smoothly as that. our driver had his doubts every kilometer of the way.
"take Old Hope Road," i said.
"Old Hope Road," he said, "this is Old Hope Road. where is the place?"
"keep going—like we're going to Papine."
"you're going to Papine?"
"yes, and then a bit further."
"here is Papine. where is the place?"
"okay, turn left. we're going up to Jackshill."
"Jackshill?! this is not the way to Jackshill."
"yes, it's this way. like we're going to the Blue Mountains."
"we're going to the Blue Mountains??!"
"no, no, just that direction. here turn left, this is Skyline Drive."
he turned, and then turned and turned, up, up, up the hill. true to its name, Skyline etched endless sharp switchbacks into the mountainside, rapidly lifting us hundreds of feet into the air. our driver seemed only slightly fazed, but he pressed on. near our destination, he slowly rolled past a grand view of Kingston, and even he couldn't hold back his astonishment. one of the cars ahead seemed less satisfied, as a young European woman—pretty and decked in dreads—leaped out and approached us.
"that woman is crazy!" she said. "can i ride with you?"
"you're going to Dub Club?" i asked.
"yes."
what the hell else are we doing driving up this suicidal road on the last night of the year? apparently her driver had boiled over in frustration at the route, so i silently gave thanks for our driver's poise.
a few minutes later, we arrived.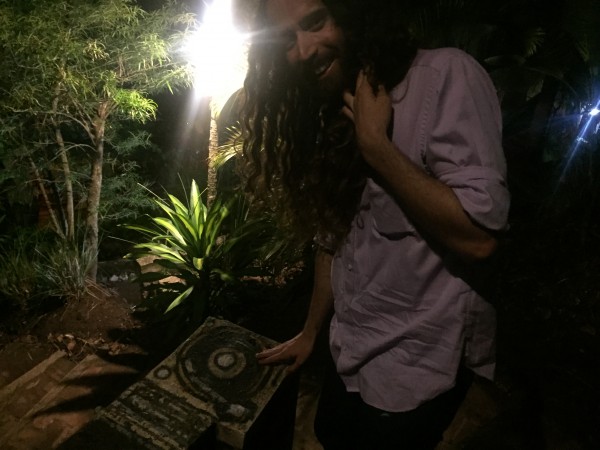 undoing a fraction of the uphill drive, we immediately descended a steep, winding flight of stairs to the heart of the party. towering over the dance floor sat a behemoth of a soundsystem, including fat woofers and tweeters spanning ten feet. but the dance floor existed everywhere, with the massive dub music infiltrating Rastafarians (milling about with their own personal bongs), club regulars dancing slowly and sensually on the sidelines, and even the partygoers further from the system, enjoying the view of Kingston from the balcony.
Natalie and i ordered drinks, and then situated ourselves above the dance floor. we chilled and sipped our drinks, smiling at the company and taking in the smoky dub music in the clouds. behind the speakers, i spotted a mural on the wall, including the quote, "the only good system is a soundsystem." directly in front of us, an ancient Rastafarian danced ceaselessly to the music, his enormous dreads resting like a towel tied up in a knot. later on he untied the knot, and the dreads dropped down to his ankles. he danced on.
my love and i finished drinking, lit up a spliff, and rocked steady.
as midnight approached, the club swelled. Natalie and i pushed our way to the balcony to see what fireworks would come. we rubbed elbows with Jamaicans and tourists alike: men, women, blacks, whites, Americans, Europeans, Asians, dub lovers, party seekers, vagrants, sinners, lovers, Rastafarians. it felt like a Jamaican twist on Times Square, except instead of dropping a ball on live television while semi-important celebrities counted to us like kindergartners, midnight arrived unannounced.
"is it time?" said a voice, as some small fireworks lit up the city in patches.
i looked at my phone and saw 0:00. Dub Club didn't give a fuck. Dub Club cared only about keeping the good dub feeling flowing, countdown be damned. nestled in the crowded balcony, Natalie and i kissed. happy new year, happy birthday. in that moment, holding Natalie and taking in the meager fireworks show, i instantly felt something special. the good music, the good people, the realness made me appreciate the stroke of a new midnight more fully than i had ever appreciated prior new years. instead of hype and dismay, we experienced peace and love.
directly above our heads, fireworks went off like popcorn, yellow chaotic sparks making a mad ruckus and then quickly fading. their proximity, plus the size of the crowd crammed into that tiny cliffside balcony made me briefly feel paranoid—especially with the tragic Oakland fire so recent.
i didn't let it get me down. i just pulled Natalie back to the dance floor, where we spent our remaining time at the club, absorbing as much of that deep, soulful dub as possible.
we climbed the stairs to the makeshift parking lot, and hunted for a ride. in the same predicament, a drunk, bewildered German couple made a deal—a bad, very expensive deal—with a driver because the German had no sense of what a ride should cost. Natalie and i tried to bargain with the driver, but he insisted we pay the same as the Germans. eventually we settled on a somewhat lower fare (still equal between both parties), but the driver didn't neglect to lecture us about how his was no normal taxi.
whatever. we just sat in the new year glow, eyeing the champagne glass next to the driver's seat and wondering about the bizarre flask of herb wine in my pocket. slowly, we slithered back to New Kingston in the nighttime of a new day.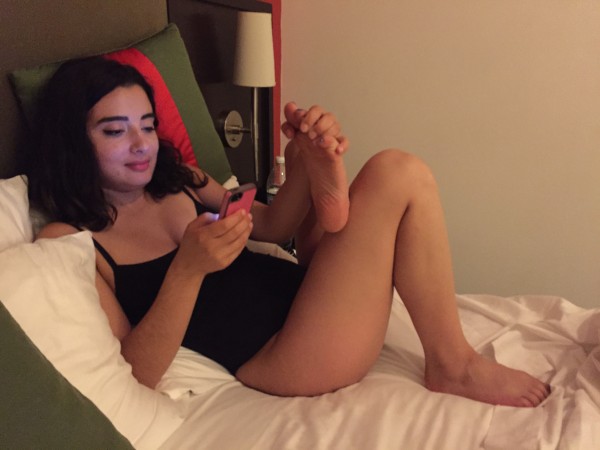 ~~~~~~ 6 ~~~~~~
in the morning, we revisited the free breakfast. a slight variation on the day before, i devoured a kitchen sink omelet with plantains, festival, fruit, coffee, water, and, in honor of 2017, a mimosa compliments of the lovely Spanish Court.
Robert would be arriving soon to drive us up to his property in the Blue Mountains, where we'd booked three nights. we would need to pay the man in cash, so we walked to a few ATMs. i say a few because ATM after ATM denied my withdrawal requests. i didn't understand. until then, we had had no trouble withdrawing cash. once we returned to the hotel, mission failed, the concierge informed us that some ATMs only deposited Jamaican dollars, while other particular ATMs could also deposit American dollars. though we'd gone to one of the banks with both ATMs, we'd used the wrong one.
we packed up and waited for Robert, the old black man with a bushy grey beard and a smile that could slay a thousand white-collar anxieties. when we first met him in real life, he looked identical to how he looked in the photo his wife had sent us: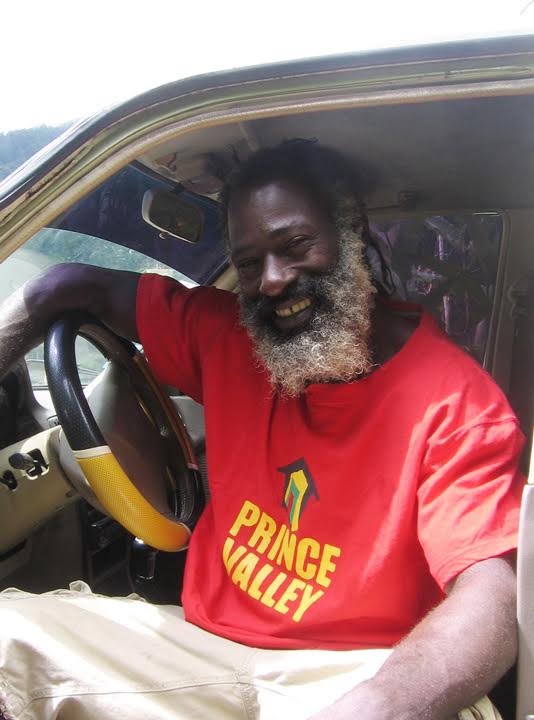 Robert emanated heart and soul. he loaded up our bags and, when we told him about the ATMs, he said "no problem, no problem" in his husky, growling voice. he drove us to the correct ATM, i withdrew cash, and we set off.
the morning after our ascent to the Dub Club, we traced the same route. instead of turning left on Skyline, however, we veered right—to the Blue Mountains. through windy paths, potholes galore, and a sea of green in all directions, we drove for about an hour on the main highway (the B1) before turning onto a crumbling road toward Prince Valley. the B1 had been nothing to acclaim, but the final road looked punishing. with the calm of a man who'd driven the path hundreds of times before, Robert guided his tan bucket of a truck around corners, across potholes, and over sharp, steep hills with ease. windows down, cruising through the village, we turned all heads, and all heads greeted Robert. Robert did the same, often saying "top o' da mornin'" or nothing more than, "bless, bless" with a hand wave.
at last, we reached the Prince Valley Guest House, our home for the next three nights. and what a home it was. perched at the solitary edge of the village, the compound consisted of five units, including the treehouse we'd reserved. green, green, green, the west-facing valley offered endless feast for the eyes. after showing us to our tree, Robert gave a tour, showing off the numerous, diverse patios for all kinds of chilling, the humble common area (complete with couch, fridge, tiny television, and a huge collection of DVDs), the garden (where Robert grew coffee and other comestibles to be enjoyed by guests), the trails (which Robert called "tracks"), and the pool, fed by fresh, freezing mountain spring water. bless.
around 6, Chef asked us if we'd be up for dinner. the way it worked was that Robert's chef would make any meals you requested—breakfast, lunch, and/or dinner—as long as you requested them in advance. we'd signed up for breakfast and dinner every day, and were always ready the first time Chef asked.
not too long later, Chef delivered plates of hot food. dinner consisted of the traditional Jamaican dish ackee (a fruit imported to Jamaica from West Africa in the 1700s) and saltfish (dried and salted cod), peas and rice, and some greens (not callaloo, which we'd had earlier in the trip). entirely traditional Jamaican cuisine, and cooked to perfection.
after dinner, we took over the common area (not that Robert had any guests besides us), drinking and reading the evening away. since we'd arrived, loud, solemn songs of prayer had belted from a soundsystem, drowning the valley with music for hours. suddenly, it stopped. slowly getting tired, we crawled under the mosquito net into bed, where we played a game of scrabble until our eyelids drooped.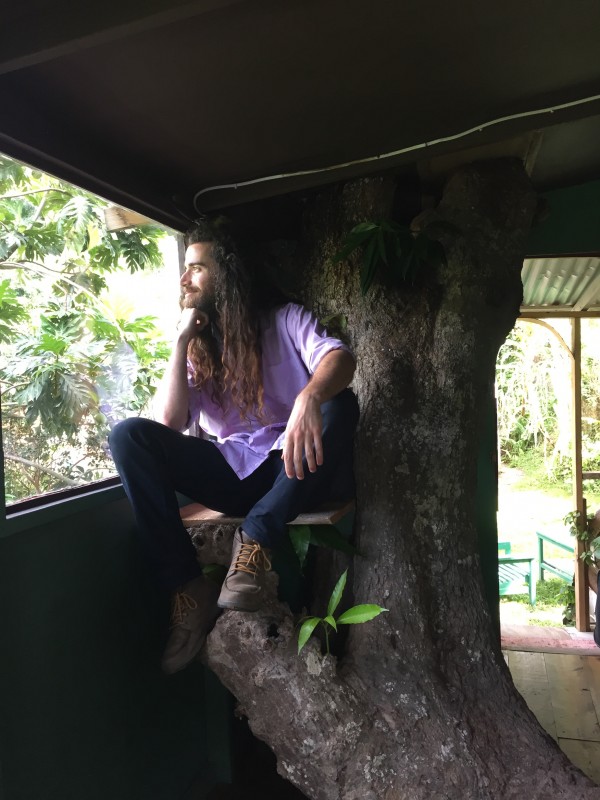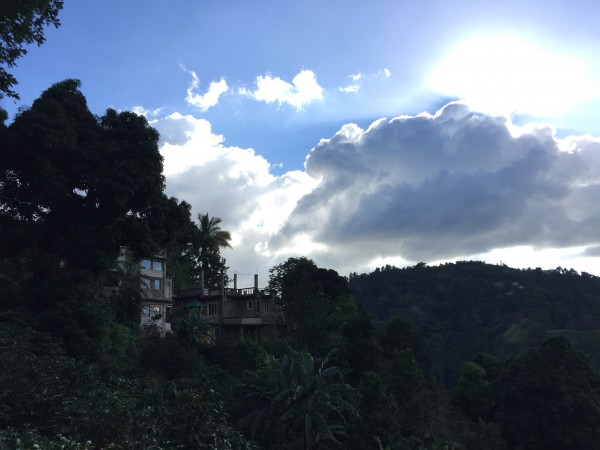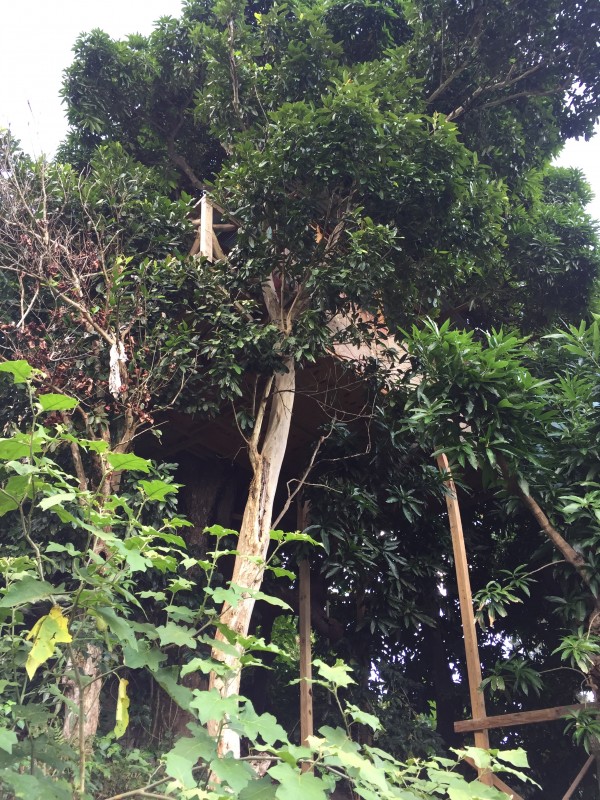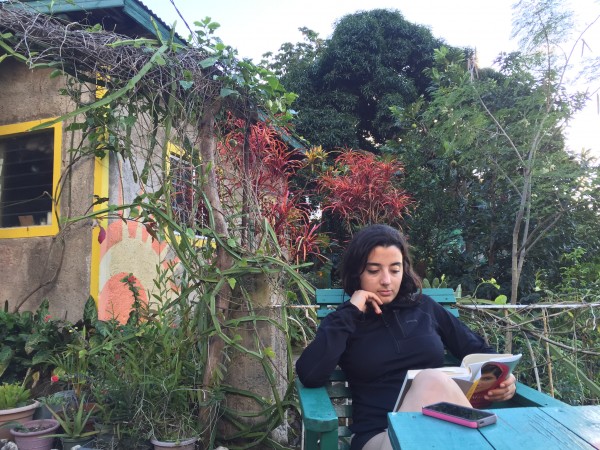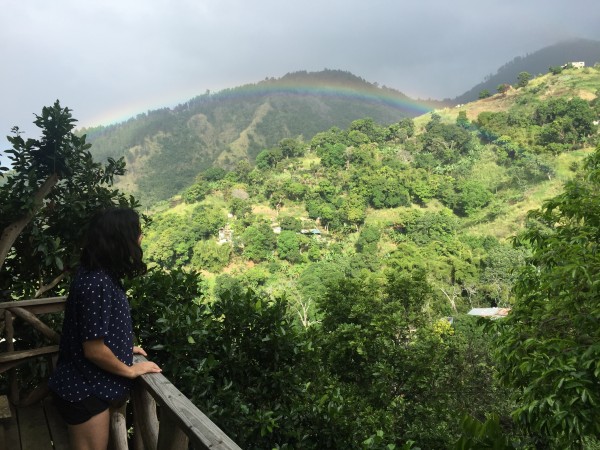 ~~~~~~~ 7 ~~~~~~~
we woke up puffy-eyed and well-rested a bit before 9. after a mild rain grazed the valley, i stepped shirtless onto the balcony to be greeted by a rainbow.
Chef stopped by with his wide, omnipresent grin simply to announce breakfast. he brought us coffee, scrambled eggs w veggies, fried plantains, breadfruit (a fruit, not a bread, that resembles dried pineapple), slices of mango, a peeled orange—everything fresh, juicy, lovely. we poured out extra cups of coffee and digested while Bobby and Chef smoked.
Natalie and i flipped through the binder left in our room, and decided we'd like to hike at Holywell, the nearby national park. we dressed, packed a small bag with essentials, and then hopped into Robert's truck for the short drive to the park. entrance fee paid, we went on a short hike to a wee waterfall, where we smoked and kissed.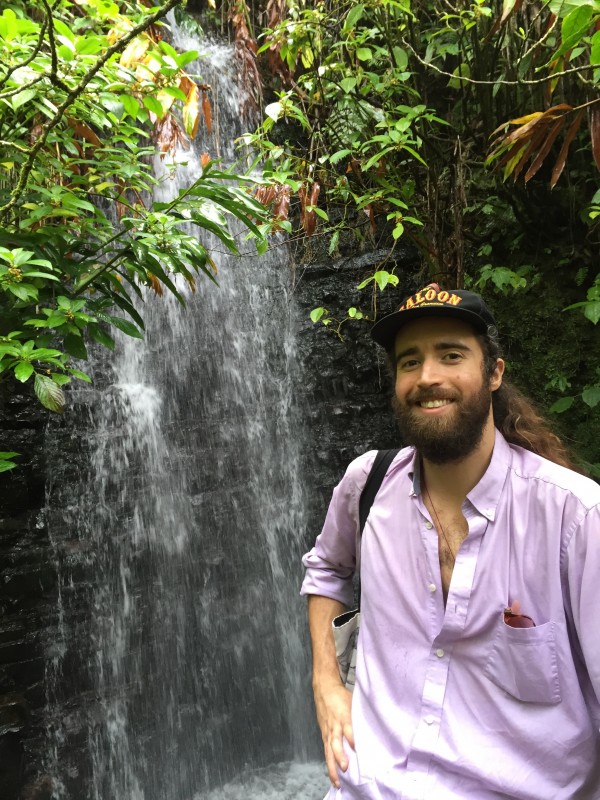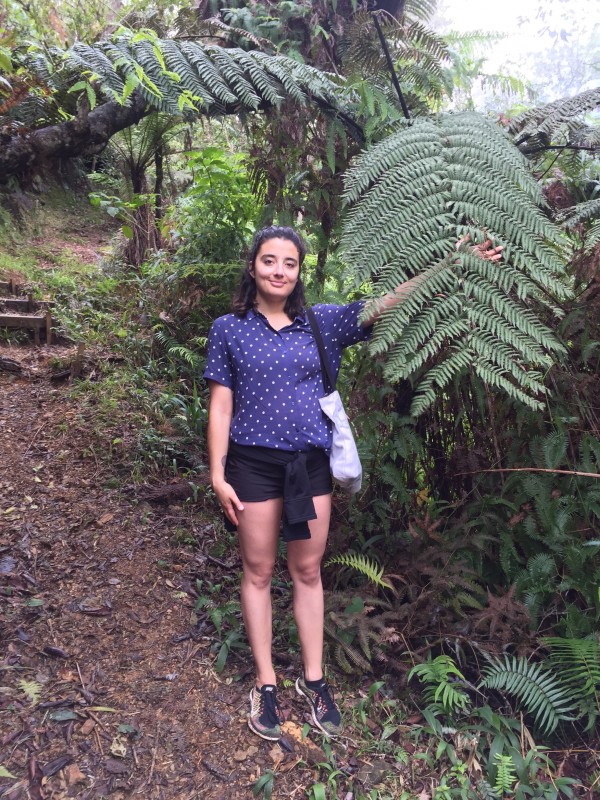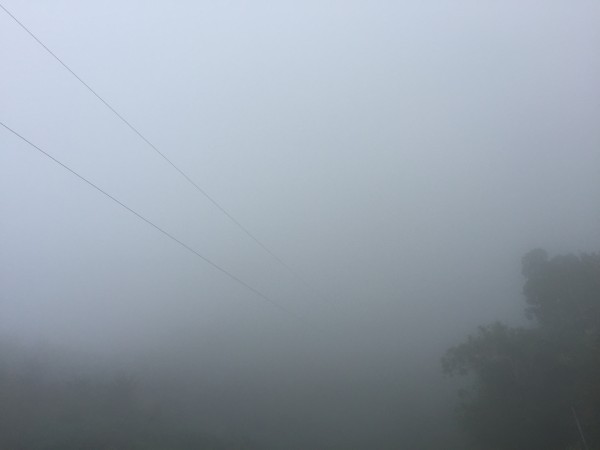 high in the mountains, we'd left the Caribbean heat far behind. cool and foggy, the Blue Mountains offered the ideal walking weather, so we resolved to continue our hike on the B1 highway. we walked in the opposite direction of home, heading toward Alex Twyman's Old Tavern Blue Mountain Coffee Estate. we walked and walked and walked, rounding curves and beholding incredible vistas, increasingly questioning whether we'd gone in the right direction or if we'd passed the place.
at last, we came upon a line of three or four parked cars and a couple Chinese women milling about.
"is this Twyman's Coffee?" i asked one of the women.
"down," she said, nodding and smiling as if she didn't speak any English but understood my question perfectly.
we followed two Chinese kids down a windy, weathered flight of stony stairs to a small cottage perched on the side of the mountain. two dogs, large and loafing, stood up lazily to sniff out the newcomers.
hearing voices inside, we crossed the threshold. we'd found the place. a few Americans and a large Chinese family shuffled inside the close quarters of the small, wooden cabin. nobody seemed to know quite what to do with themselves. the Americans handled various items on the nearest table, including bags of coffee for sale, while the Chinese exchanged binoculars, peering out the far windows at a magnificent view of the valley.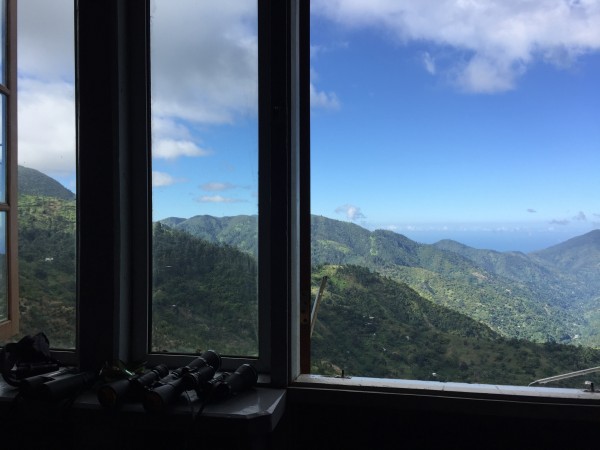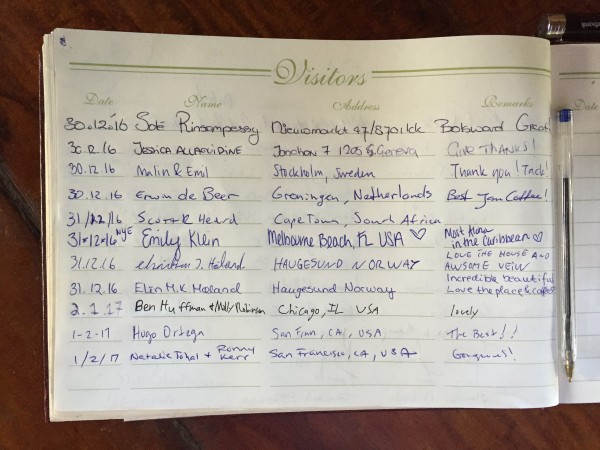 visiting the estate—with its unique yet subdued prosperity, its cavalcade of dissimilar strangers, and the attraction of a single intoxicating substance—felt the way i imagine it would be to visit a cocaine plantation in South America. supporting my theory, David Twyman (son of Alex) played the part of coffee lord. deeply darkened by the sun yet profoundly enlightened by endless cups of coffee, David appeared undeniably high on his own supply, yet not to the point of abuse. he simply breathed arabica. in our brief conversations, often interrupted by a transaction or a kettle going off, he spoke with the sophisticated indifference of a man whose home serves as turnstile to the world's travelers. he listened attentively, asked a pointed question about yourself or your home, sipped his coffee, and then wheeled himself around the house once more.
when he served us our first cup of coffee, the lord urged with quiet zeal that we try the coffee straight—no cream, no sugar. if we did absolutely require added sweetness, he suggested a single drop of honey. Natalie and i required not even the honey; the coffee tasted like the nectar Athena sips before a long day of slashing down ingrates. we swallowed cup after cup of complimentary coffee directly from the pour of David's hand, and he gave us a brief primer on each one: this one a light roast, that a medium-dark, etc.
alas, we could not stay long. as late afternoon approached, we needed to head home to have the light last throughout our walk. so we bid adieu to David, the man who'd said a thousand goodbyes, and retraced our steps on the B1. silly Natalie realized five or ten minutes later that she'd left her fleece behind, so she left me lingering on the side of the highway while she ran there and back again.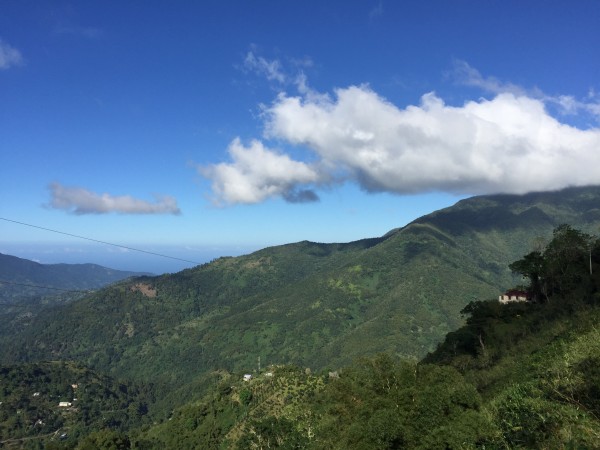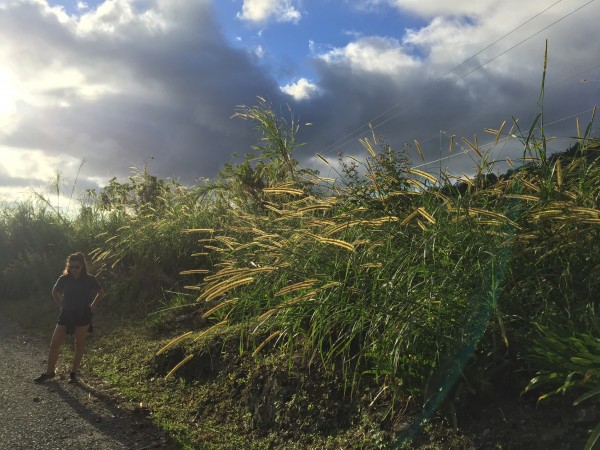 we walked and walked and walked. we passed the Gap Cafe, too fancy for us. we walked and walked and walked, passing through the military yard. we walked and walked and walked, getting close to home once we reached the Bubbles stop, where we picked up a flask of clear rum, water, cheese puffs, and chocolates. just a few snacks to get us home.
at home, i took a cold shower while listening to Ginger Baker's drum solo, and then joined Natalie for WiFi and dinner while we listened to the beginning of the same Fela album.
Chef had already begun dinner, and so it didn't take long for him to deliver bowls of soup. the long walk had whetted my appetite, so i quickly devoured the pureed soup, and wondered whether that was all. but Robert asked if i wanted more, so i quickly found myself downing a second large bowl imagining that would be the end. not so. Natalie and i realized the soup had merely been the first course when Chef arrived with heaping plates seafish, fried carrots and greens, potatoes, yams, and plantains. my goodness, and how i polished it off even after the soup. after dinner, fat like a king, we smoked a greasy cigarette.
we drank, we read, we loved. then we slept.
~~~~~~~~ 8 ~~~~~~~~
our second morning in the treehouse, we woke up earlier—around 830. for a change of scenery, we took coffee and breakfast (ackee and saltfish, breadfruit, fried plantains, papaya, and orange) on the higher balcony.
then we read, read, read in sunny, post-meal bliss.
once again we requested a ride from Robert, this time down the hill to the Craighton Coffee Estate, a Japanese operation run largely for the benefit of the wealthy Japanese coffee connoisseurs 8,000 miles west of Jamaica. much to our dismay, we learned the tour would cost $25 each, but no matter.
our tour guide, a young Jamaican named Jerome, walked us around the plantation, showing us live coffee plants and inviting us to taste some of the bitter beans still ripening. Jerome imparted a ton of information, and i did my best to take note of the most important parts: 280,000 coffee plants grown at Craighton—arabica not robusta—the latter 52% of the world coffee, the former 48%—though like the world's #1 most traded good (oil), the #2 (coffee) is often adulterated as there's no standard nor authority—Blue Mountain arabica is something special, with 70% of its sales going to wealthy Japanese—Jamaicans themselves drink instant coffee—unless they're like lucky, mountain-thriving men like Robert—usually arabica ripens in 5-7 months, in Blue Mountains it takes 9-11—so it's juicier, sweeter—Twyman and other north side farmers receive less sun so their harvest takes less long.
after the crash course in coffee, we sat in the veranda drinking cup after cup.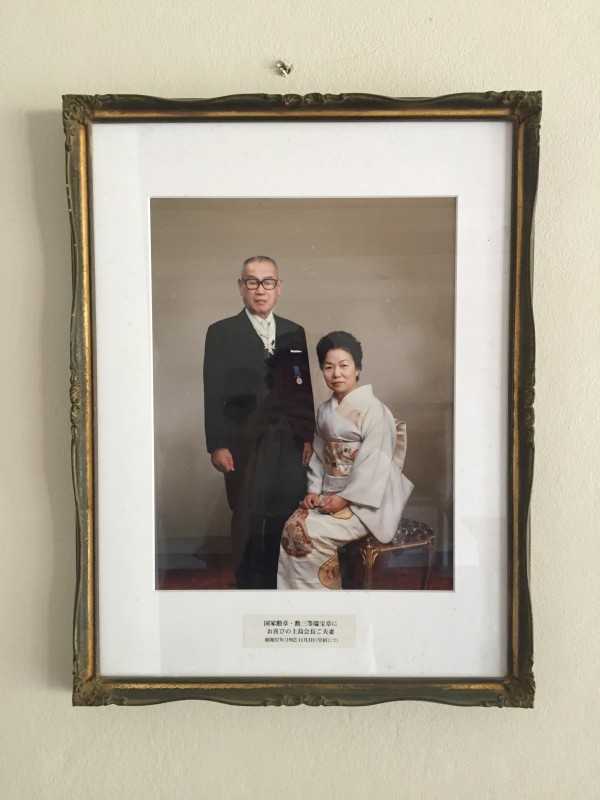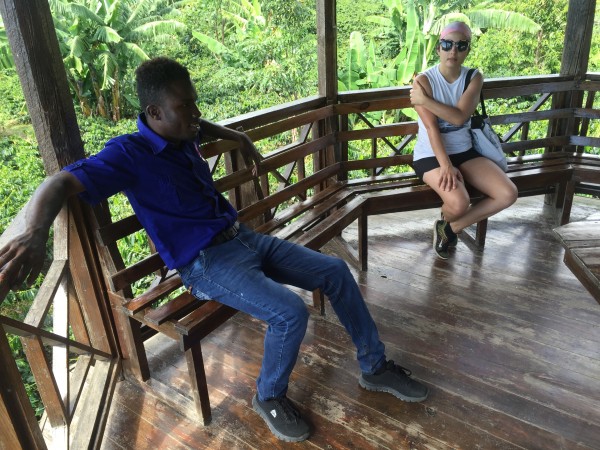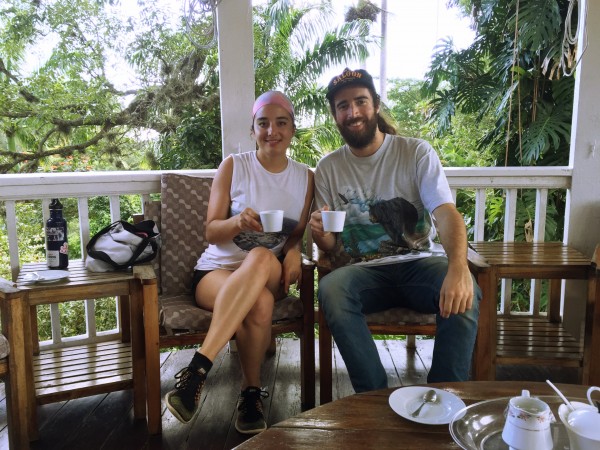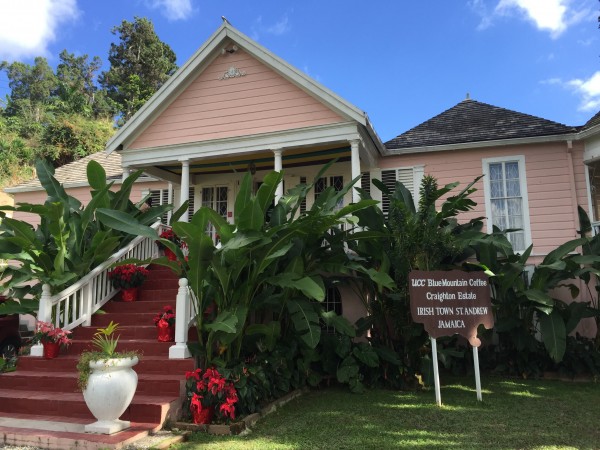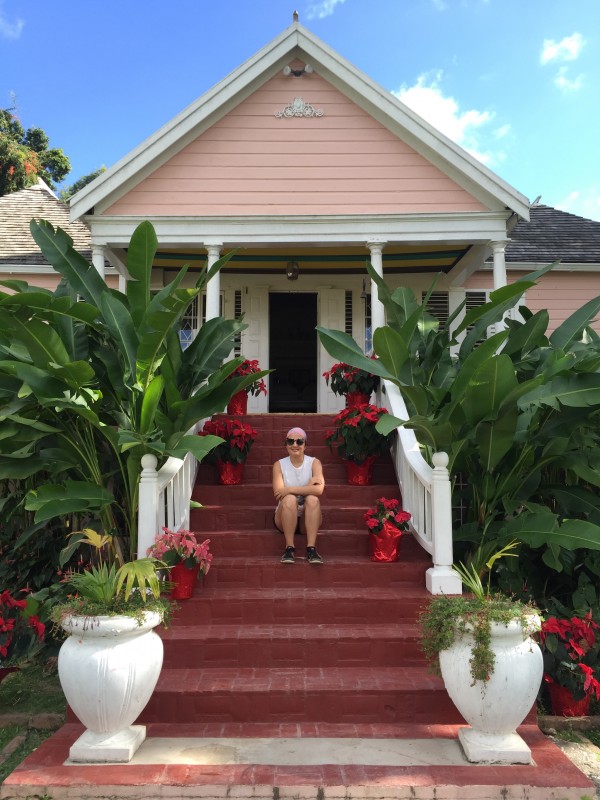 suitably souped up, we left the estate in the direction of home. first we walked through Red Light, a village with (i believe) no relation to the internationally understood name of a prostitution district. near the end of town, we sidled up to a roadside shack to ask a rasta about taxis up the hill. just hitchhike, he said. we smiled because that's what we wanted to hear, and left the shop with bananas and coconut snacks.
up we walked, stopping once on the side of the road for a drink of water. Natalie tilted her head back to draw deep from the bottle, and in the process heard her shades fall down, down, down the deep ravine.
a little further we came upon a dingy little bar, entirely empty except for the bartender and a kitten on its last legs. the middle-aged woman served us a couple drinks, but soon had better company in the form of two men eager to play dominoes. like old chums, they  sat around the table laughing and slamming the pieces as if you scored more points the harder you hit the table. we smiled in thanks, and continued on.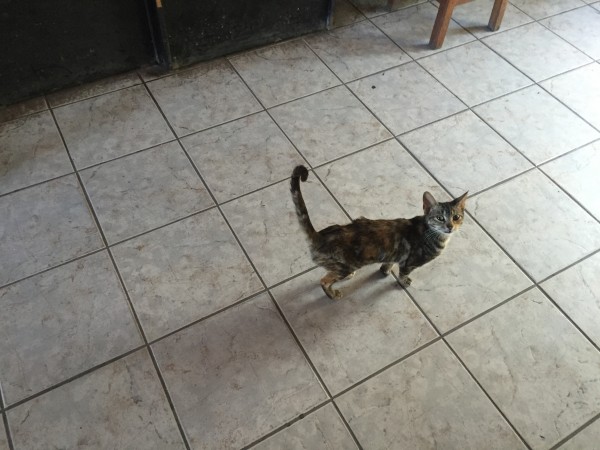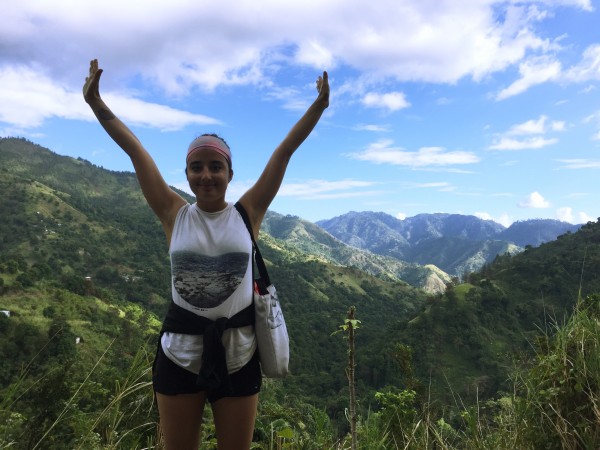 as we walked, we stuck our thumb at every passing car until finally an SUV stopped for us. we happily accepted the ride from a gang of friends heading to EITS Cafe. sitting shotgun, the slender 33-year-old woman told us that she'd spent 20 years living in Kingston before moving to London. though she returns to visit family every xmas, i sensed she shared more in common with Londoners than people of the Blue Mountains when she warned us of the dangers of hitchhiking.
briefly, we explored the Cafe with its multiple stories and grand views, but we soon moved on up the hill. thumb out again (in spite of the nice lady's warning), we quickly hailed another ride with a man named David, a cousin of Robert's. he brought us just nearly home, but we still had some walking to do. David pointed across the valley.
"Prince Valley is over there," he said. "do you think you can make it?"
it was possible, but the deep valley and a hundred trees of a dozen different species stood in the way.
"we could probably make it… but we'll take the long way."
Natalie and i walked through town, making it home to discover we were no longer the sole guests of Prince Valley. Omero, a hefty African-American in shorts and sandals had arrived with his Jamaican friend, Tazia. Tazia was from Kingston and Omero, to our collective surprise and delight, was from Oakland. after introductions, we soon broke into laughter and conversation, bound by shared smokes and drinks. for dinner, we ate beans, greens, and pumpkin rice.
the sun set as we drank beer, and then Natalie and i said our good nights.
~~~~~~~~~ 9 ~~~~~~~~~
our third morning in the treehouse, we woke up around 815. well, Natalie still slept, so i stepped on the balcony to read Ovid.
once Natalie rose, we took coffee and breakfast in the usual spot, savoring our last plate of ackee and saltfish, plantains, and coco bread cooked up by Chef. then we packed and paid up.
peace to the Valley.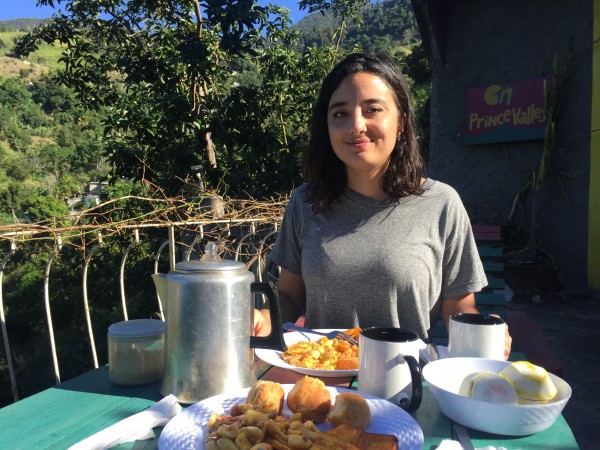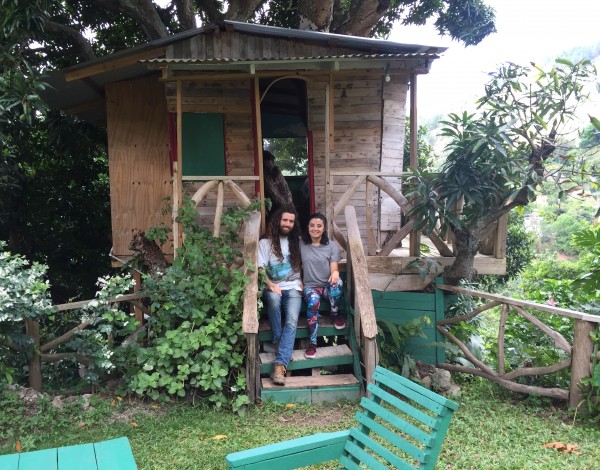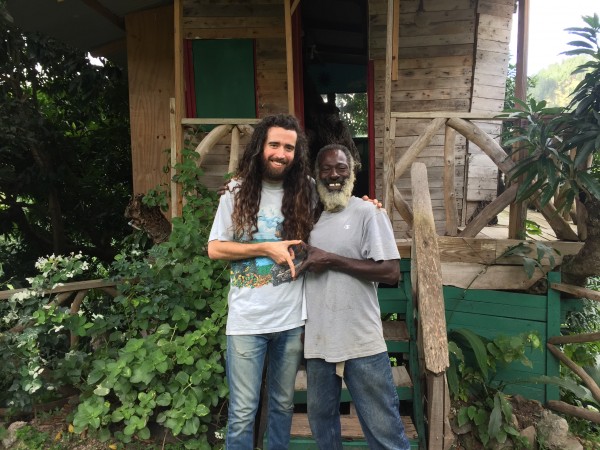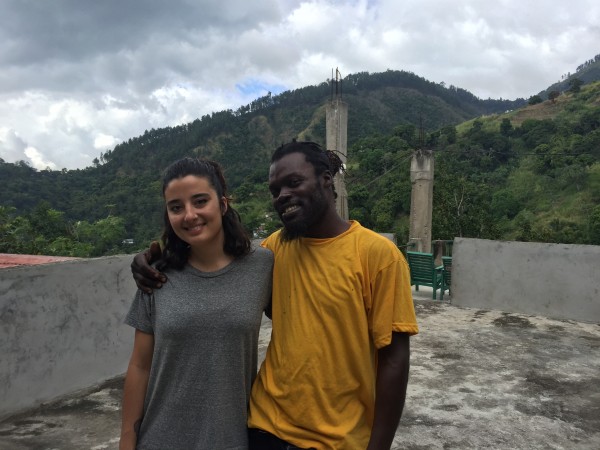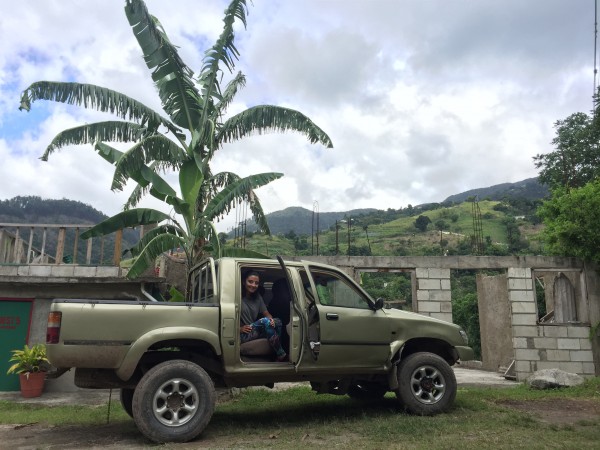 all the way down the mountain, Robert blessed us with his free laughter and wisdom while DJ Dale spun in the deck.
we had plenty of time to kill in Kingston, so instead of going directly to Knutsford Express we had Robert drop us off at the Bob Marley Museum. with little fanfare, on the side of a busy road, we emptied the truck of our bags and said goodbye.
still uninterested in paying $50 to tour the museum, Natalie and i contented ourselves with surveying the outside of the property and visiting the gift shop. i spent a little too long trying to find the right gifts for Danny, eventually settling on a beach towel, a pint glass, and stickers. then we returned to the outdoor cafe and ordered smoothies to cool us off in the low-altitude heat. at last, we grabbed a taxi, cruised over to the bus station, and caught our ride to Ocho Rios.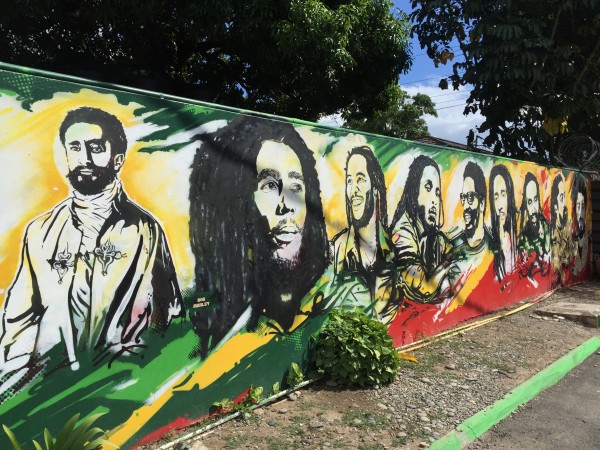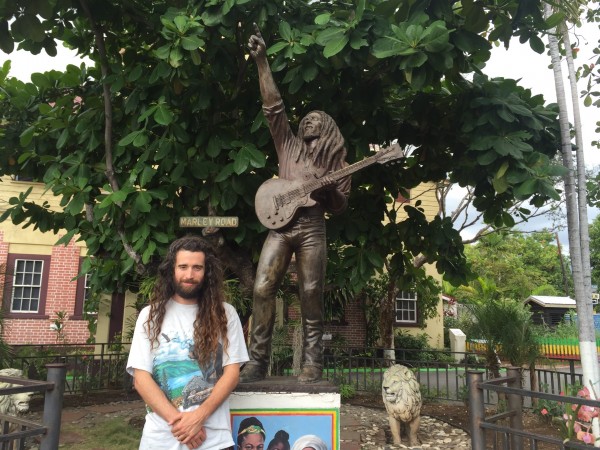 a north-south trip across the island (instead of east-west), the bus ride to Ocho Rios took half as long as the one from Negril to Kingston. no pit stops necessary. not even enough time to see the thrilling conclusion to Daddy's Little Girls, a 2007 romance about a father fighting his psychotic, drug dealer-dating ex for custody of their three daughters. yes, beautiful view on those brand new highways through the Jamaican countryside, but that movie!
we got a taste of things to come at the station in Ocho because it wasn't clear how to contact Marcia, our host for the next two nights. over email, she had said to simply ask a Knutsford employee to borrow a phone, but they turned us down. so we stepped outside, looking forlorn. thankfully, a taxi driver asked us if we needed a ride.
"actually, someone is supposed to pick us up. but we have no way to call them."
he sized us up, and then offered his mobile. boom. we rang Marcia, but of course she didn't pick up, so we called her husband Richard. he said his wife would be right over. after almost half an hour, Marcia rolled up in a sedan. we connected, but she didn't seem too interested in us. just load up, get in the car, let's go.
we'd booked with this middle-aged couple, Marcia and Richard, through an online site where they advertised their place as the chance to "LIVE LIKE A LOCAL." cruising through downtown Ocho, onto the highway, right turn into Content Garden, left to the play field, right at the field, another right still hugging the field, up to the beautiful house overlooking the humble neighborhood, i wondered whether locals expect late pickups and cold greetings.
"here's your room," Marcia said, showing us the large bedroom and attached bathroom. "if you need anything, let me know."
and just like that, she retreated upstairs.
what we needed most was a shower, so we took care of that in the lukewarm water with a dwindling supply of shampoo and conditioner. at least we had clean towels. while washing up, we not only heard but saw Richard come home, as he pulled his massive van into the garage adjoining the shower. sounded like dinner.
Marcia had said to let her know if we needed anything, but did that mean we could just waltz upstairs? or should we knock? or just yell at the balcony from the driveway? these questions hounded me, but Natalie and i needed to eat so we mostly just emanated waves of energy until the couple noticed. Richard, with indifference equal to his wife's and possibly a dash of irritation, said he could drive us to pick up food.
we boarded the van, the vehicle Richard used to taxi passengers for work, and drove silently through the neighborhood. a few minutes later, we pulled up to a grungy eatery, nondescript as if an afterthought: someone realized they could put their extra large patio and kitchen to use. sticking out like snow white thumbs we walked up to the grating to place our orders. the young woman taking our orders didn't want to deal with us, but we kept it simple, ordering quickly as if we'd done it a hundred times. because i'd seen several of them kicking around the neighborhood, i ordered the curried goat. Natalie got the beef stew. food in hand, we swung by the gas station to pick up some rum to go with dinner.
back at home, we vanquished our meals with gusto while watching back-to-back wedding episodes of Friends. somehow Natalie had never seen them. i gasped, and then we fell asleep fat and happy.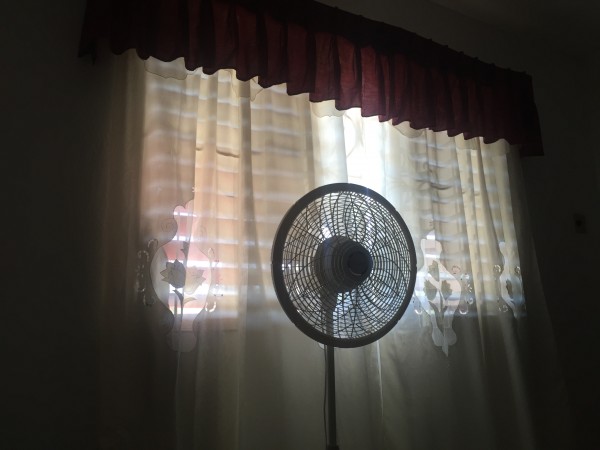 ~~~~~~~~~~ 10 ~~~~~~~~~~
in the morning, we again faced the challenge of getting Marcia's attention. she'd promised us coffee and a light breakfast in the morning, and we damn well weren't going anywhere until we cashed in.
once again, we lingered on the porch, looked up at the balcony, knocked meekly at the door leading upstairs, and mostly just prayed she would feel our energy. at last, she did, and she invited us upstairs, through the kitchen, and to the balcony. as if we had entered an alternate universe (living like ordinary locals in the neighborhood instead of privileged tourists in the mountains), we drank instant coffee (instead of Blue Mountain nectar), white bread with margarine (neither real food), and fruit (likely imported from another continent). but we appreciated and wiped clean every last bit, chatting a bit w Marcia and gleaning any tidbits we could about the best beaches to visit.
she recommended Mahogany Beach as the place with the least tourists, so after eating we left the property and didn't make one block before hailing a cab.
a sign at the entrance to Mahogany Beach read "PRIVATE BEACH — NO ENTRY," which we ignored as Marcia had instructed. we walked toward the tiny strip of beach, flanked by a couple souvenir shops and a bar. a couple people asked if we wanted to rent beach chairs for a few bucks, but we declined because we didn't mind lying in the sand. yet the sand was strange. where on an ordinary beach you can imagine truckloads of sand underneath your feet, the sand on Mahogany felt inch-deep. someone had even raked it. i assumed you could start digging and reach the concrete parking lot in a few seconds, but i didn't try it. instead i accepted the strange hardness of the beach, smiled at my love, and popped open a notebook to do some writing.
Ziggy Marley, catchy as hell, drifted from the bar speakers: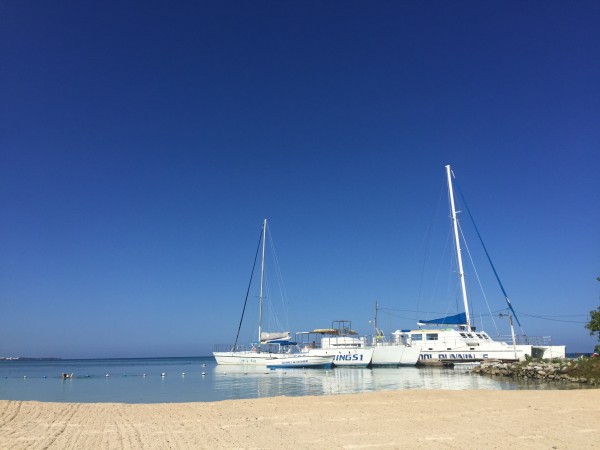 after a brief swim, Natalie and i dried and smoked in the sun. then we left.
we walked up to Main St, and made our way west toward downtown. soon enough, the small, dingy shops morphed into larger, more crowded marketplaces, and then the road broadened to a bustling rotunda with cars and people streaming in all directions. seeing us overwhelmed, a man loitering on the corner asked if we needed a taxi, but we said no, thanks. what we needed was lunch, so he guided us off Main St onto James Ave.
he led us to a small restaurant with a menu identical to the one from dinner the night before. perfect, we thought. we thanked him with a few Jamaican dollars, ordered, and dove into soup and other delicious entrees.
leaving the joint, we noticed bars in every direction, some on the second story with balconies suggesting wild night life. we entered the loneliest one—nobody there except the bartender. she served us rum cocktails, and then we all sat entranced by the television, showing off a crazy dance party on a boat. you couldn't turn away. the camera work slowly moved about the party, usually lingering on the women, moving the lens up and down their bodies somewhat creepily. but not entirely: you got the sense this camera guy wasn't just searching for jerkoff material. he actually seemed to be invested in exploring the diverse range of attire.
"everyone's style is so unique," said Natalie.
once again, the bell struck beach o'clock, so we paid our tab, returned to Main, and continued west to Turtle Beach. though it required a small entrance fee, the place killed Mahogany. the sand felt good. the shore went on for a mile. and it wasn't just washed up white people; families and friends of Jamaicans had set up camp on the beach, enjoying the lovely day.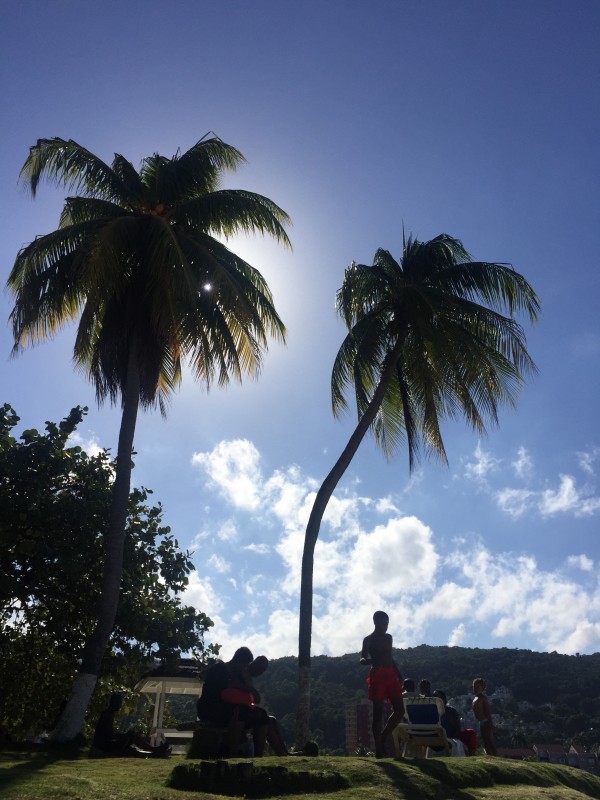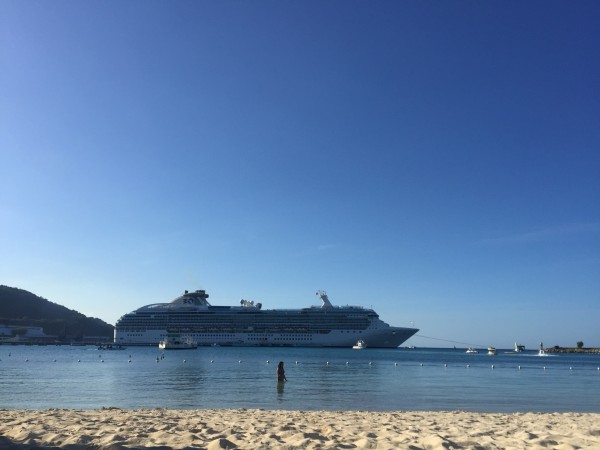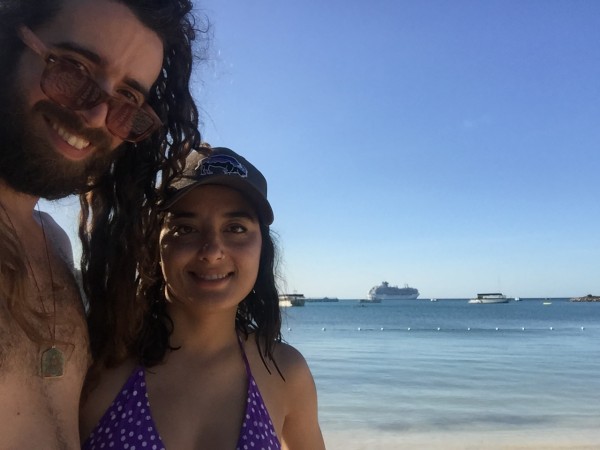 well-beached, we packed our things and headed back east on Main, taking a few moments to dip into the open-air market that reminded me of the Huembes in Managua. every stall featured the same cheap souvenirs and aggressive, middle-aged woman, desperate to sell her wares. we quickly dipped out with promises to return.
back to James we went, lured into a tiny dive bar by its glowing purple lights and blasting Michael Jackson. the lady tending the bar charged us as if we were locals, and we chilled as though it were true. at one point, a man joined us at the lonely bar. he'd just finished work in the neighborhood, and more than anyone else he seemed eager to talk to us. we talked about Jamaica, we talked about our trip, we talked about the world.
"what do you think of Trump?" he asked with a smile.
we just groaned, so he understood. i tried to make excuses, saying many countries have crazy leaders, and then i asked about Jamaican politics. but the way he told it, America seems to have it a lot shittier.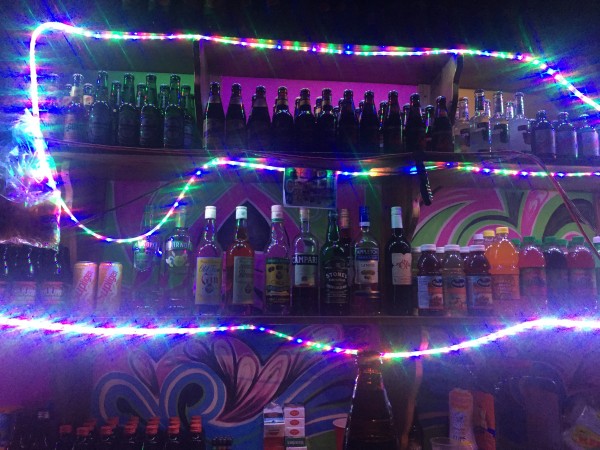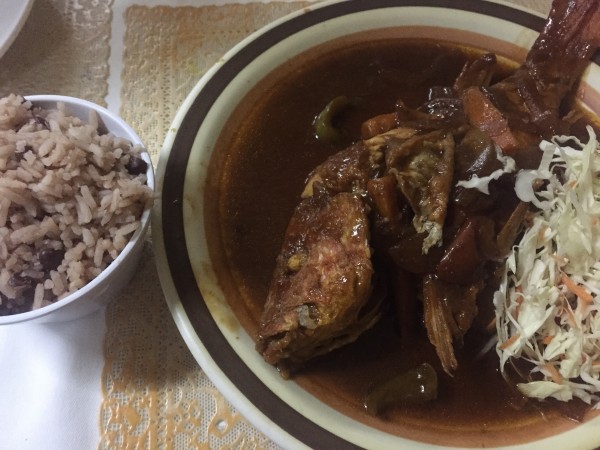 we said our goodbyes, and then Natalie and i weaved through Main and the rotunda to a highly recommended restaurant called Mom's. i ordered the fish stew, and loved it.
back at home, we flipped through the tube before eventually landing on music videos. some stuff we recognized, some stuff we didn't, and then—when i wasn't paying attention—Natalie asked, "is that the Dub Club?"
sure enough, the Rastafarian singing his soulful song on the TV had wisely selected the Dub Club as the main site for his music video. it was all there: the sweet views, the lovely balcony, the incredible soundsystem. i laughed in love.
~~~~~~~~~~~ 11 ~~~~~~~~~~~
the second morning, we had less trouble getting Marcia's attention. for the last time, we lived like locals, delighting in instant coffee, white bread, and fruit on the balcony while watching a few goats amble across the field.
we caught a taxi to town, where we revisited the market to pick up souvenirs for family and friends. a Harley Davidson shirt for my dad, a Snoopy shirt (which we had the entire community of saleswomen hunting for in the right size) for my mom, bracelets, and more. exhausted by capitalism, we embarked on a long, arduous passage to a restaurant called Passage to India. eventually we found the place, so we treated ourselves to naan and chicken tikka masala.
afternoon approaching, we returned home to pack up and then caught another taxi (this one shared) to Knutsford Express, saying our silent goodbyes to Content Garden.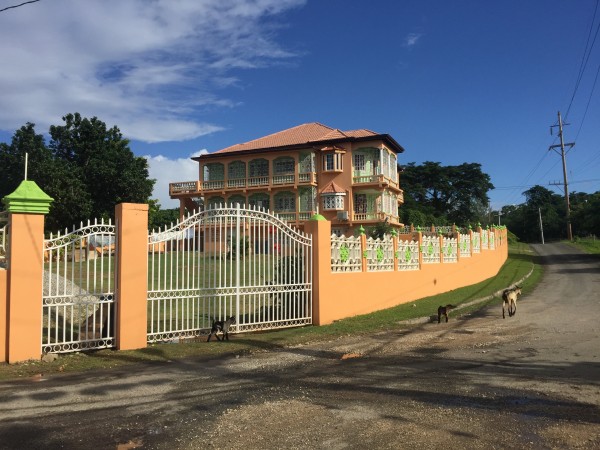 a bit shorter than the ride east across the island, the ride to Montego Bay only took us a couple hours. we arrived at El Greco, an extensive resort perched on the hill above Caribic House, the dingy hotel we'd reserved our first night on the island. amazingly, i'd snagged the Greco room for the same price as the Caribic one.
i say amazing because, as with the Spanish Court, we were greeted with a cocktail on arrival. a bellboy helped carried our bags and guided us to our room, which was actually a two-story apartment complete with bedroom, bathroom, kitchen, living room, and balcony. the bellboy locked one of the extra bedrooms belonging to the unit, but i took note of the place's excellent possibilities for partying.
we had a drink and smoke on the balcony, and then ventured out to the skybridge and elevator to take us down to the street. we hit up the old ATM near Caribic and then walked the old walk to the Pork Pit. we had advanced so much since our last time there. we declined aggressive shopkeepers with ease, and then ordered a 1/2 pound of ribs with the perfect amount of sides.
satisfied, we walked home perfectly at ease, shared another round, and then slept.
~~~~~~~~~~~~ 12 ~~~~~~~~~~~~
i woke up around 8 in the morning, left Natalie in bed, and descended to the living room to finish reading Herzog. i'd planned it perfectly so that, reading two of his journal entries per day, i reached the very end of his walk right at the end of our trip. poor, dark soul that Herzog. at least his heroine survived.
our stay included breakfast, so Natalie and i wandered over to the dining hall, where a waitress seated us and gave us two options. Natalie chose the American breakfast, i chose the Jamaican breakfast. no complaints, but that plate of fried fish, greens, banana, yucca, and dumpling didn't live up to Chef's masterpieces.
everywhere we looked, old white retired people looked restless. resort life, i suppose. predictably, the black people seemed to be opting for the Jamaican breakfast while the white people went American. but who knows, maybe they all switched their choices from day to day.
for a final round of shopping, we took the elevator down the street and bought a ton of rum at the local liquor store. back up in the room, we packed while listening to the album of the week (Thelonious Monk's Brilliant Corners) and then checked out.
for one final act, we walked to the resort's cliffside, smoked a bit, and took in the view.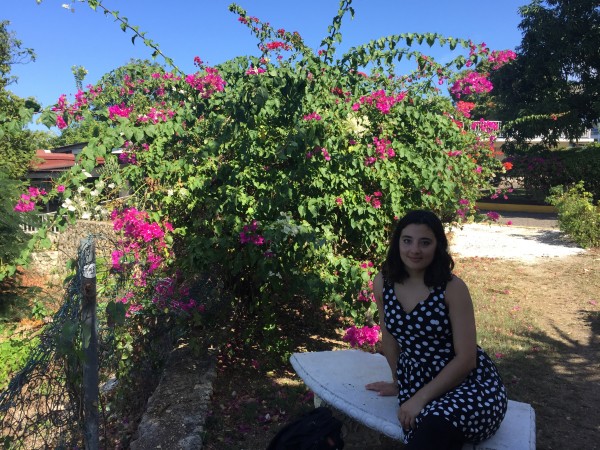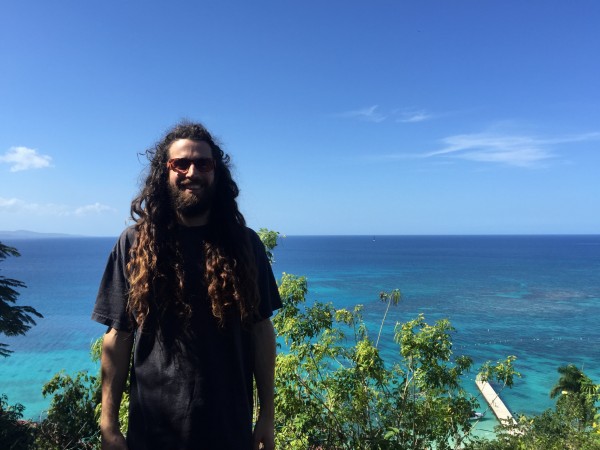 when we returned to the lobby and checked our phones, we learned that our flight had been delayed a couple hours. apparently the weather in the eastern U.S. didn't look quite as pretty as it did in the Caribbean.
so we returned to the main drag and walked to the park, where it seemed all the locals hung out. in fact, it was one of the few places you didn't see a bunch of clueless tourists trudging around with bewildered looks on their faces. we carved out a chill, private spot in the shade of a tree. reminded me of the time we lay in the grass while waiting for our flight to take us away from Amsterdam.
at last, it was time to go. we scooped up fries from burger king and then caught our ride to the airport, where we encountered lines, lines, lines, lines. we ate at the food court. i played hearts. we waited and waited to board our delayed plane, feeling pretty sure we'd miss our connection in Charlotte.
luckily, we earned exit row seats. unluckily, Charlotte was chaos. our flight flew to San Francisco without us, and so Natalie and i waited in a long line to rebook for a morning flight. then we raced through the airport in search of dinner before all the restaurants closed. California Pizza Kitchen saves the day. after dinner, Natalie went to sleep on a heat vent while i finished reading the second half of Americanah, not sleeping a wink.
at dawn, red-eyed and ready for home, we boarded our plane.
the flight went so nicely until we reached the Bay Area, where high winds from the latest storm system tossed our scrap of metal around the skies like a plaything. a dozen people vomited, and i nearly did too.
but it's always nice to kiss Ithaca.