"Centuries of centuries and only in the present do things happen." — Jorge Luis Borges
—————
—————
PROLOGUE
Such is the scope of the changes now taking place that I could have gone pretty much anywhere and, with the proper guidance, found signs of them. One chapter concerns a die-off happening more or less in my own backyard (and, quite possibly, in yours). (3)
—————
—————
THE SIXTH EXTINCTION: Atepolus zeteki
herpetology (n.)
the branch of zoology concerned with reptiles and amphibians.
A person walking along [Thousand Frog Stream] would see so many golden frogs sunning themselves on the banks that, as one herpetologist who made the trip many times put it to me, 'it was insane—absolutely insane.'" (5)
—————
Golden frogs have a distinctive, ambling gait that makes them look a bit like drunks trying to walk a straight line. They have long, skinny limbs, pointy yellow snouts, and very dark eyes, through which they seem to be regarding the world warily. At the risk of sounding weak-minded, I will say that they look intelligent. (8)
—————
"Even the regular people in El Valle, they notice it," he said. "They tell me, 'What happened to the frogs? We don't hear them calling anymore.'" (10)
—————
Most amphibians—the word comes from the Greek meaning "double life"—are still closely tied to the aquatic realm from which they emerged. (11)
—————
Amphibians emerged at a time when all the land on earth was part of a single expanse known as Pangaea. Since the breakup of Pangaea, they've adapted to conditions on every continent except Antarctica. Worldwide, just over seven thousand species have been identified, and while the greatest number are found in the tropical rainforests, there are occasional amphibians, like the sandhill frog of Australia, that can live in the desert, and also amphibians, like the wood frog, that can live above the Arctic Circle. Several common North American frogs, including spring peepers, are able to survive the winter frozen solid, like popsicles. Their extended evolutionary history means that even groups of amphibians that, from a human perspective, seem to be fairly similar may, genetically speaking, be as different from one another as, say, bats are from horses. (11-12)
—————
Like Griffith, all of the volunteers were frog lovers. Several, I learned, were zookeepers who worked with amphibians back in the States. (One told me that frogs had ruined his marriage.) (14)
—————
Everyone I spoke to at EVACC told me that the center's goal was to maintain the animals until they could be released to repopulate the forests, and everyone also acknowledged that they couldn't imagine how this would actually be done. (14)
—————
The same way acoustical engineers speak of "background noise" biologists talk about "background extinction." In ordinary times—times here understood to mean whole geologic epochs—extinction takes place only very rarely, more rarely even than speciation, and it occurs at what's known as the background extinction rate. This rate varies from one group of organisms to another; often it's expressed in terms of extinctions per million species-years. Calculating the background extinction rate is a laborious task that entails combing through whole databases' worth of fossils. For what's probably the best-studied group, which is mammals, it's been reckoned to be roughly .25 per million species-years. This means that, since there are about fifty-five hundred mammal species wandering around today, at the background extinction rate you'd expect—once again, very roughly—one species to disappear every seven hundred years. (15)
—————
Anthony Hallam and Paul Wignall, British paleontologists who have written extensively on the subject, define mass extinctions as events that eliminate a "significant proportion of the world's biota in a geologically insignificant amount of time." (16)
—————
In times of panic, whole groups of once-dominant organisms can disappear or be relegated to secondary roles, almost as if the globe had undergone a cast change. Such wholesale losses have led paleontologists to surmise that during mass extinction events—in addition to the so-called Big Five, there have been many lesser such events—the usual rules of survival are suspended. Conditions change so drastically or so suddenly (or so drastically and so suddenly) that evolutionary history counts for little. Indeed, the very traits that have been most useful for dealing with ordinary threats may turn out, under such extraordinary circumstances, to be fatal.
A rigorous calculation of the background extinction rate for amphibians has not been performed, in part because amphibian fossils are so rare. Almost certainly, though, the rate is lower than it is for mammals. Probably, one amphibian species should go extinct every thousand years or so. That species could be from Africa or from Asia or from Australia. In other words, the odds of an individual's witnessing such an event should be effectively zero. Already, Griffith has observed several amphibian extinctions. Pretty much every herpetologist working out in the field has watched several. (Even I, in the time I spent researching this book, encountered one species that has since gone extinct and three or four others, like the Panamanian golden frog, that are now extinct in the wild.) "I sought a career in herpetology because I enjoy working with animals," Joseph Mendelson, a herpetologist at Zoo Atlanta, has written. "I did not anticipate that it would come to resemble paleontology."
Today, amphibians enjoy the dubious distinction of being the world's most endangered class of animals; it's been calculated that the group's extinction rate could be as much as forty-five thousand times higher than the background rate. But extinction rates among many other groups are approaching amphibian levels. It is estimated that one-third of all reef-building corals, a third of freshwater mollusks, a third of sharks and rays, a quarter of all mammals, a fifth of all reptiles, and a sixth of all birds are headed toward oblivion. The losses are occurring all over: in the South Pacific and in the North Atlantic, in the Arctic and the Sahel, in lakes and on islands, on mountaintops and in valleys. If you know how to look, you can probably find signs of the current extinction event in your own backyard. (17-18)
—————
Female African clawed frogs, when injected with the urine of a pregnant woman, lay eggs within a few hours. (18)
—————
etiology (n.)
1. Medicine: the cause, set of causes, or manner of causation of a disease or condition
—the causation of diseases and disorders as a subject of investigation.
2. the investigation or attribution of the cause or reason for something, often expressed in terms of historical or mythical explanation.
Either way, the etiology is the same. (18)
—————
This sort of intercontinental reshuffling, which nowadays we find totally unremarkable, is probably unprecedented in the three-and-a-half-billion-year history of life. (18-19)
—————
I kept slipping, and violating Rule No. 1 of rainforest safety: never grab onto something if you don't know what it is. (20)
—————
One of the amphibians that Griffith was hoping to catch, the horned marsupial frog, has a distinctive call that's been likened to the sound of a champagne bottle being uncorked. (21)
—————
—————
THE MASTODON'S MOLARS: Mammut americanum
In the Enlightenment, the prevailing view was that every species was a link in a great, unbreakable "chain of being." As Alexander Pope put it in his Essay on Man:
All are but parts of one stupendous whole,
Whose body nature is, and God the soul. (24)
—————
The [incognitum] was, [Thomas Jefferson] maintained with [France's leading naturalist, Georges-Louis Leclerc, Comte de Buffon] the largest of all beasts—"five or six times the cubic volume of the elephant." (This would disprove the theory, popular in Europe at the time, that the animals of the New World were smaller and more "degenerate" than those of the Old.) (27)
—————
"Such is the economy of nature," [Jefferson] wrote, "that no instance can be produced of her having permitted any one race of her animals to become extinct; of her having formed any link in her great work so weak as to be broken." (27-28)
—————
[Cuvier] was twenty-five years old, with wide-set gray eyes, a prominent nose, and a temperament one friend compared to the exterior of the earth—generally cool but capable of violent tremors and eruptions. (28)
—————
We chatted about proboscideans for a while. "They're a fascinating group," he told me. "For instance, the trunk, which is a change of anatomy in the facial area that is truly extraordinary, it evolved separately five times. Two times—yes, that's surprising. But it happened five times independently! We are forced to accept this by looking at the fossils." (31)
—————
"Is not Cuvier the greatest poet of our century?" Honoré de Balzac would ask. (38)
—————
The study of stratigraphy was at this point in its infancy, but it was already understood that different layers of rocks had been formed during different periods. The pleiosaur, the itchthyosaur, and the as-yet-unnamed dinosaur had all been found in limestone deposits that were attributed to what was then called the Secondary and is now known as the Mesozoic era. So too, had the ptero-dactyle and the Maastricht animal. This pattern led Cuvier to another extraordinary insight about the history of life: it had a direction. Lost species whose remains could be found near the surface of earth, like mastodons and cave bears, belonged to orders of creatures still alive. Dig back farther and one found creatures, like the animal from Montmartre, that had no obvious modern counterparts. Keep digging and mammals disappeared altogether from the fossil record. Eventually one reached a world not just previous to ours, but a world previous to that, dominated by giant reptiles. (40-41)
—————
Cuvier's ideas about this history of life—that it was long, mutable, and full of fantastic creatures that no longer existed—would seem to have made him a natural advocate for evolution. But Cuvier opposed the concept of evolution, or transformisme as it was known in Paris at the time, and he tried—generally, it seems, successfully—to humiliate any colleagues who advanced the theory. (41)
—————
Later, as [Cuvier's] list of extinct species grew, his position changed. There had, he decided, been multiple cataclysms. "Life on earth has often been disturbed by terrible events," he wrote. "Living organisms without number have been the victims of these catastrophes." (44)
—————
ecumenical (adj.)
representing a number of different Christian churches.
—promoting or relating to unity among the world's Christian churches.
This sort of ecumenicalism was unacceptable to the Anglican clergy who made up the faculty at institutions like Oxford, and when the essay was translated into English, it was construed by Buckland and others as offering proof of Noah's flood. (45)
—————
—————
THE ORIGINAL PENGUIN: Pinguinus impennis
The word "catastrophist" was coined in 1832 by William Whewell, one of the first presidents of the Geological Society of London, who also bequeathed to English "anode," "cathode," "ion," and "scientist." (47)
—————
barrister (n.)
a lawyer entitled to practice as an advocate, particularly in the higher courts.
[Lyell had] then attended Oxford and trained to become a barrister. (47)
—————
When Lyell looked (admittedly myopically) at the rock outcroppings of the British countryside or at the strata of the Paris basin or at the volcanic islands near Naples, he saw no evidence of cataclysm. In fact, quite the reverse: he thought it unscientific (or, as he put it, "unphilosophical") to imagine that a change in the world had ever occurred for different reasons or at different rates than it did in the present day. According to Lyell, every feature of the landscape was the result of very gradual processes operating over countless millennia—processes like sedimentation, erosion, and vulcanism, which were all still readily observable. For generations of geology students, Lyell's thesis would be summed up as "The present is the key to the past." (48)
—————
It would be more accurate to describe the voyage of the Beagle as the period when Darwin discovered Lyell. (51)
—————
One of Lyell's central claims was that some areas of the earth were gradually rising, just as others were gradually subsiding. (Lyell further contended that these phenomena were always in balance, so as to "preserve the uniformity of the general relations of the land and sea.") (51)
—————
Darwin saw that the key to understanding coral reefs was the interplay between biology and geology. If a reef formed around an island or along a continental margin that was slowly seeking, the corals, by growing slowly upward, could maintain their position relative to the water. Gradually, as the land subsided, the corals would form a barrier reef. If, eventually, the land sank away entirely, the reef would form an atoll. (52-53)
—————
Lyell, who saw change occurring always and everywhere in the world around him, drew the line at life. That a species of plant or animal might, over time, give rise to a new one he found unthinkable, and he devoted much of the second volume of the Principles to attacking the idea, at one point citing Cuvier's mummified cat experiment in support of his objections.
Lyell's adamant opposition to transmutation, as it was known in London, is almost as puzzling as Cuvier's. New species, Lyell realized, regularly appeared in the fossil record. But how they originated was an issue he never really addressed, except to say that probably each one had begun with "a single pair, or individual, where an individual was sufficient" and multiplied and spread out from there. This process, which seemed to depend on divine or at least occult intervention, was clearly at odds with the precepts he had laid out for geology. Indeed, as one commentator observed, it seemed to require "exactly the kind of miracle" that Lyell had rejected.
With his theory of natural selection, Darwin once again "out-Lyelled" Lyell. Darwin recognized that just as the features of the inorganic world—deltas, river valleys, mountain chains—were brought into being by gradual change, the organic world similarly was subject to constant flux. Ichthyosaurs and pleiosaurs, birds and fish and—most discomfiting of all—humans had come into being through a process of transformation that took place over countless generations. This process, though imperceptibly slow, was, according to Darwin, still very much going on; in biology, as in geology, the present was the key to the past. In one of the most often-quoted passages of On the Origin of Species, Darwin wrote:
It may be said that natural selection is daily and hourly scrutinising, throughout the world, every variation, even the slightest; rejecting that which is bad, preserving and adding up all that is good; silently and insensibly working, whenever and wherever opportunity offers.
Natural selection eliminated the need for any sort of creative miracles. Given enough time for "every variation, even the slightest" to accumulate, new species would emerge from the old. Lyell this time was not so quick to applaud his protégé's work. He only grudgingly accepted Darwin's theory of "descent with modification," so grudgingly that his stance seems to have eventually ruined their friendship.
Darwin's theory about how species originated doubled as theory of how they vanished. Extinction and evolution were to each other the warp and weft of life's fabric, or, if you prefer, two sides of the same coin. "The appearance of new forms and the disappearance of old forms," were, Darwin wrote, "bound together." Driving both was the "struggle for existence," which rewarded the fit and eliminated the less so. (53-54)
—————
foraminifer (n.)
a single-celled planktonic animal with a perforated chalky shell through which slender protrusions of protoplasm extend. Most kinds are marine, and when they die, their shells form thick ocean-floor sediments.
Guðmundsson is an expert on foraminifera, tiny marine creatures that form intricately shaped shells, known as "tests." (56)
—————
hauteur (n.)
haughtiness of manner; disdainful pride.
This lent it a look of mournful hauteur. (57)
—————
In its heyday, which is to say, before humans figured out how to reach its nesting grounds, the great auk ranged from Norway over to Newfoundland and from Italy to Florida, and its population probably numbered in the millions. When the first settlers arrived in Iceland from Scandinavia, great auks were so common that they were regularly eaten for dinner, and their remains have been found in the tenth-century equivalent of household trash. While I was in Reykjavik, I visited a museum built over the ruins of what's believed to be one of the most ancient structures in Iceland—a longhouse constructed out of strips of turf. According to one of the museum's displays, the great auk was "easy prey" for Iceland's medieval inhabitants. In addition to a pair of auk bones, the display featured a video re-creation of an early encounter between man and bird. In the video, a shadowy figure crept along a rocky shore toward a shadowy auk. When he drew close enough, the figure pulled out a stick and clubbed the animal over the head. The auk responded with a cry somewhere between a honk and a grunt. I found the video grimly fascinating and watched it play through a half a dozen times. Creep, clobber, squawk. Repeat.
As best as can be determined, great auks lived much as penguins do. In fact, great auks were the original "penguins." They were called this—the etymology of "penguin" is obscure and may or may not be traced to the Latin pinguis, meaning "fat"—by European sailors who encountered them in the North Atlantic. Later, when subsequent generations of sailors met similar-colored flightless birds in the Southern Hemisphere, they used the same name, which led to much confusion, since auks and penguins belong to entirely different families. (Penguins constitute their own family, while auks are members of the family that includes puffins and guillemots; genetic analysis has shown that razorbills are the great auk's closest living relatives.)
Like penguins, great auks were fantastic swimmers—eyewitness accounts attest to the birds' "astonishing velocity" in the water—and they spent most of their lives at sea. But during breeding season, in May and June, they waddled ashore in huge numbers, and here lay their vulnerability. Native Americans clearly hunted the great auk—one ancient grave in Canada was found to contain more than a hundred great auk beaks—as did paleolithic Europeans: great auk bones have been found at archaeological sites in, among other places, Denmark, Sweden, Spain, Italy, and Gibraltar. By the time the first settlers got to Iceland, many of its breeding sites had already been plundered and its range was probably much reduced. Then came the wholesale slaughter.
Lured by the rich cod fishery, Europeans began making regular voyages to Newfoundland in the early sixteenth century. Along the way, they encountered a slab of pinkish granite about fifty acres in area, which rose just above the waves. In the spring, the slab was covered with birds, standing, in a manner of speaking, shoulder to shoulder. Many of these were gannets and guillemots; the rest were great auks. The slab, about forty miles off Newfoundland's northeast coast, became known as the Isle of Birds or, in some accounts, Penguin Island; today it is known as Funk Island. Toward the end of a long transatlantic journey, when provisions were running low, fresh meat was prized, and the ease with which auks could be picked off the slab was soon noted. In an account from 1534, the French explorer Jacques Cartier wrote that some of the Isle of Birds' inhabitants were "as large as geese."
They are always in the water, not being able to fly in the air, inasmuch as they have only small wings . . . with which . . . they move as quickly along the water as the other birds fly through the air. And these birds are so fat it is marvellous. In less than half an hour we filled two boats full of them, as if they had been stones, so that besides them which we did not eat fresh, every ship did powder and salt five or six barrels full of them.
A British expedition that landed on the island a few years later found it "full of great foules." The men drove a "great number of the foules" into their ships and pronounced the results to be quite tasty—"very good and nourishing meat." A 1622 account by a captain named Richard Whitbourne describes great auks being driven onto boats "by hundreds at a time as if God had made the innocency of so poor a creature to become such an admirable instrument for the sustenation of Man."
Over the next several decades, other uses for the great auk were found besides "sustenation." (As one chronicler observed, "the great auks of Funk Island were exploited in every way that human ingenuity could devise.") Auks were used as fish bait, as a source of feathers for stuffing mattresses, and as fuel. Stone pens were erected on Funk Island—vestiges of these are still visible today—and the birds were herded into the enclosures until someone could find time to butcher them. Or not. According to an English seaman named Aaron Thomas, who sailed to Newfoundland on the HMS Boston:
If you come for their Feathers you do not give yourself the trouble of killing them, but lay hold of one and pluck the best of the Feathers. You then turn the poor Penguin adrift, with his skin half naked and torn off, to perish at his leisure.
There are no trees on Funk Island, and hence nothing to burn. This led to another practice chronicled by Thomas.
You take a kettle with you into which you put a Penguin or two, you kindle a fire under it, and this fire is absolutely made of the unfortunate Penguins themselves. Their bodys being oily soon produce a Flame.
It's been estimated that when Europeans first landed at Funk Island, they found as many as a hundred thousand pairs of great auks tending to a hundred thousand eggs. (Probably great auks produced only one egg a year; these were about five inches long and speckled, Jackson Pollock–like, in brown and black.) Certainly the island's breeding colony must have been a large one to persist through more than two centuries of depredation. By the late seventeen hundreds, though, the birds' numbers were in sharp decline. The feather trade had become so lucrative that teams of men were spending the entire summer on Funk, scalding and plucking. In 1785, George Cartwright, an English trader and explorer, observed of these teams: "The destruction which they have made is incredible." If a stop were not soon put to their efforts, he predicted, the great auk would soon "be diminished to almost nothing."
Whether the teams actually managed to kill off every last one of the island's auks or whether the slaughter simply reduced the colony to the point that it became vulnerable to other forces is unclear. (Diminishing population density may have made survival less likely for the remaining individuals, a phenomenon that's known as the Allee effect.) In any event, the date that's usually given for the extirpation of the great auk from North America is 1800. Some thirty years later, while working on The Birds of America, John James Audubon traveled to Newfoundland in search of great auks to paint from life. He couldn't find any, and for his illustration had to make do with a stuffed bird from Iceland that had been acquired by a dealer in London. In his description of the great auk, Audubon wrote that it was "rare and accidental on the banks of Newfoundland" and that it was "said to breed on a rock on that island," a curious contradiction since no breeding bird can be said to be "accidental."
* * *
Once the Funk Island birds had been salted, plucked, and deep-fried into oblivion, there was only one sizable colony of great auks left in the world, on an island called the Geirfuglasker, or great auk skerry, which lay about thirty miles off southwestern Iceland's Reykjanes Peninsula. Much to the auk's misfortune, a volcanic eruption destroyed the Geirfuglasker in 1830. This left the birds one solitary refuge, a speck of an island known as Eldey. By this point, the great auk was facing a new threat: its own rarity. Skins and eggs were avidly sought by gentlemen, like Count Raben, who wanted to fill out their collections. It was in the service of such enthusiasts that the very last known pair of auks was killed on Eldey in 1844.
Before setting out for Iceland, I'd decided that I wanted to see the site of the auk's last stand. Eldey is only about ten miles off the Reykjanes Peninsula, which is just south of Reykjavik. But getting out to the island proved to be way more difficult to arrange than I'd imagined. Everyone I contacted in Iceland told me that no one ever went there. Eventually, a friend of mine who's from Iceland got in touch with his father, who's a minister in Reykjavik, who contacted a friend of his, who runs a nature center in a tiny town on the peninsula called Sandgerði. The head of the nature center, Reynir Sveinsson, in turn, found a fisherman, Halldór Ármannsson, who said he'd be willing to take me, but only if the weather was fair; if it was rainy or windy, the trip would be too dangerous and nausea-inducing, and he wouldn't want to risk it.
Fortunately, the weather on the day we'd fixed turned out to be splendid. (59-63)
—————
To English speakers, Snæfellsjökull is probably best known as the spot where in Jules Verne's A Journey to the Center of the Earth the hero finds a tunnel through the globe. (63)
—————
"The birds do not like this camera," Sveinsson said. "So they fly over it and shit on it." (64)
—————
Darwin's familiarity with human-caused extinction is also clear from On the Origin of Species. In one of the many passages in which he heaps scorn on the catastrophists, he observes that animals inevitably become rare before they become extinct: "we know this has been the progress of events with those animals which have been exterminated, either locally or wholly, through man's agency." It's a brief allusion and, in its brevity, suggestive. Darwin assumes that his readers are familiar with such "events" and already habituated to them. He himself seems to find nothing remarkable or troubling about this. But human-caused extinction is of course troubling for many reasons, some of which have to do with Darwin's own theory, and it's puzzling that a writer as shrewd and self-critical as Darwin shouldn't have noticed this.
In the Origin, Darwin drew no distinction between man and other organisms. As he and many of his contemporaries recognized, this equivalence was the most radical aspect of his work. Humans, just like any other species, were descended, with modification, from more ancient forebears. Even those qualities that seemed to set people apart—language, wisdom, a sense of right and wrong—had evolved in the same manner as other adaptive traits, such as longer beaks or sharper incisors. At the heart of Darwin's theory, as one of his biographers has put it, is "the denial of humanity's special status." (68-69)
—————
—————
THE LUCK OF THE AMMONITES: Discoscaphites jerseyensis
To walk up the [Gola del Bottaccione] today is thus to travel, layer by layer, through time. In the space of a few hundred yards, you can cover almost a hundred million years. (71)
—————
"In science, sometimes it's better to be lucky than smart." (72)
—————
[F]inally, after almost a year's worth of dead ends, [the Alvarezes] arrived at the impact hypothesis. On an otherwise ordinary day sixty-five million years ago, an asteroid six miles wide collided with the earth. Exploding on contact, it released energy on the order of a hundred million megatons of TNT, or more than a million of the most powerful H-bombs ever tested. Debris, including iridium from the pulverized asteroid, spread around the globe. Day turned to night, and temperatures plunged. A mass extinction ensued. (75-76)
—————
In 1841, John Phillips […] divided life into three chapters. He called the first the Paleozoic, from the Greek for "ancient life," the second the Mesozoic, meaning "middle life," and the third the Cenozoic, "new life." (77)
—————
Rudists have been described as oysters pretending to be corals. (78)
—————
"I look at the natural geologic record, as a history of the world imperfectly kept, and written in a changing dialect; of this history we possess the last volume alone, relating only two or three countries. Of this volume, only here and there a short chapter has been preserved; and of each page, only here and there a few lines." (Darwin, 79)
—————
In their original paper, the Alvarezes proposed that the main cause of the K-T mass extinction was not the impact itself or even the immediate aftermath. The truly catastrophic effect of the asteroid—or, to use the more generic term, bolide—was the dust. In the intervening decades, this account has been subjected to numerous refinements. (The date of the impact has also been pushed back—to sixty-six million years ago.) Though scientists still vigorously argue about many of the details, one version of the event runs as follows:
The bolide arrived from the southeast, traveling at a low angle relative to the earth, so that it came in not so much from above as from the side, like a plane losing altitude. When it slammed into the Yucatán Peninsula, it was moving at something like forty-five thousand miles per hour, and, due to its trajectory, North America was particularly hard-hit. A vast cloud of searing vapor and debris raced over the continent, expanding as it moved and incinerating anything in its path. "Basically, if you were a triceratops in Alberta, you had about two minutes before you got vaporized" is how one geologist put it to me.
In the process of excavating the enormous crater, the asteroid blasted into the air more than fifty times its own mass in pulverized rock. As the ejecta fell back through the atmosphere, the particles incandesced, lighting the sky everywhere at once from directly overhead and generating enough heat to, in effect, broil the surface of the planet. Owing to the composition of the Yucatán Peninsula, the dust thrown up was rich in sulfur. Sulfate aerosols are particularly effective at blocking sunlight, which is the reason a single volcanic eruption, like Krakatoa, can depress global temperatures for years. After the initial heat pulse, the world experienced a multiseason "impact winter." Forests were decimated. Palynologists, who study ancient spores and pollen, have found that diverse plant communities were replaced entirely by rapidly dispersing ferns. (This phenomenon has become known as the "fern spike.") Marine ecosystems effectively collapsed, and they remained in that state for at least half a million, and perhaps as many as several million, years. (The desolate post-impact sea has been dubbed the "Strangelove ocean.")
It's impossible to give anything close to a full account of the various species, genera, families, and even whole orders that went extinct at the K-T boundary. On land, every animal larger than a cat seems to have died out. The event's most famous victims, the dinosaurs—or, to be more precise, the non-avian dinosaurs—suffered a hundred percent losses. Among the groups that were probably alive right up to the end of the Cretaceous were such familiar museum shop fixtures as hadrosaurs, ankylosaurs, tyrannosauruses, and triceratops. (The cover of Walter Alvarez's book on the extinction, T. Rex and the Crater of Doom, shows an angry-looking tyrannosaurus reacting with horror to the impact.) Pterosaurs, too, disappeared. Birds were also hard-hit; perhaps three-quarters of all bird families, perhaps more, went extinct. Enantiornithine birds, which retained such archaic features as teeth, were wiped out, as were Hesperornithine birds, which were aquatic and for the most part flightless. The same goes for lizards and snakes; around four-fifths of all species vanished. Mammals' ranks, too, were devastated; something like two-thirds of the mammalian families living at the end of the Cretaceous disappear at the boundary. (86-87)
—————
The reason this book is being written by a hairy biped, rather than a scaly one, has more to do with dinosaurian misfortune than with any particular mammalian virtue. (91)
—————
—————
WELCOME TO THE ANTHROPOCENE: Dicranograptus ziczac
The psychologists wrote up their findings in a paper titled "On the Perception of Incongruity: A Paradigm." Among those who found this paper intriguing was Thomas Kuhn. To Kuhn, the twentieth century's most influential historian of science, the experiment was indeed paradigmatic: it revealed how people process disruptive information. Their first impulse is to force it into a familiar framework: hearts, spades, clubs. Signs of mismatch are disregarded for as long as possible—the red spade looks "brown" or "rusty." At the point the anomaly becomes simply too glaring, a crisis ensues—what the psychologists dubbed the "'My God!' reaction."
This pattern was, Kuhn argued in his seminal work, The Structure of Scientific Revolutions, so basic that it shaped not only individual perceptions but entire fields of inquiry. Data that did not fit the commonly accepted assumptions of a discipline would either be discounted or explained away for as long as possible. The more contradictions accumulated, the more convoluted the rationalizations became. "In science, as in the playing card experiment, novelty emerges only with difficulty," Kuhn wrote. But then, finally, someone came along who was willing to call a red spade a red spade. Crisis led to insight, and the old framework gave way to a new one. This is how great scientific discoveries or, to use the term Kuhn made so popular, "paradigm shifts" took place. (93)
—————
What is sometimes labeled neocatastrophism, but is mostly nowadays just regarded as standard geology, holds that conditions on earth change only very slowly, except when they don't. In this sense the reigning paradigm is neither Cuvierian or Darwinian but combines key elements of both—"long periods of boredom interrupted occasionally by panic." Though rare, these moments of panic are disproportionately important. They determine the pattern of extinction, which is to say, the pattern of life. (94)
—————
A useful mnemonic for remembering the geologic periods of the last half-billion years is: Camels Often Sit Down Carefully, Perhaps Their Joints Creak (Cambrian-Ordovician-Silurian-Devonian-Carboniferous-Permian-Triassic-Jurassic-Cretaceous). The mnemonic unfortunately runs out before the most recent periods: the Paleogene, the Neogene, and the current Quaternary. (96)
—————
Those animals and plants that made it through the Ordovician extinction "went on to make the modern world," the British paleontologist Richard Fortey has observed. "Had the list of survivors been one jot different, than so would the world today." (97)
—————
The end-Permian or Permo-Triassic extinction was the biggest of the Big Five, an episode that came scarily close to eliminating multicellular life altogether. (102)
—————
The end-Permian extinction also seems to have been triggered by a change in the climate. Right at the time of extinction, 252 million years ago, there was a massive release of carbon into the air—so massive that geologists have a hard time even imagining where all the carbon could have come from. Temperatures soared—the seas warmed by as much as eighteen degrees—and the chemistry of the oceans went haywire, as if in an out-of-control aquarium. The water became acidified, and the amount of dissolved oxygen dropped so low that many organisms probably, in effect, suffocated. Reefs collapsed. The end-Permian extinction took place, though not quite in a human lifetime, in geologic terms nearly as abruptly; according to the latest research by Chinese an American scientists, the whole episode lasted no more than two hundred thousand years, and perhaps less than a hundred thousand. By the time it was over, something like ninety percent of all species on earth had been eliminated. (104)
—————
If twenty-five years ago it seemed that all mass extinctions would ultimately be traced to the same cause, now the reverse seems true. As in Tolstoy, every extinction event appears to be unhappy—and fatally so—in its own way. It may, in fact, be the very freakishness of the events that renders them so deadly; all of a sudden, organisms find themselves facing conditions for which they are, evolutionarily, completely unprepared. (104)
—————
After a pint or two, the conversation turned to another one of Zalasiewicz's favorite subjects: giant rats. Rats have followed humans to just about every corner of the globe, and it is Zalasiewicz's professional opinion that one day they will take over the earth.
"Some number will probably stay rat-sized and rat-shaped," he told me. "But others may well shrink or expand. Particularly if there's been epidemic extinction and ecospace opens up, rats may be best placed to take advantage of that. And we know that change in size can take place fairly quickly." I recalled a rat I once watched drag a pizza crust along the tracks at an Upper West Side subway station. I imagined it waddling through a deserted tunnel blown up to the size of a Doberman. (104-105)
—————
Zalasiewicz is convinced that even a moderately competent stratigrapher will, at the distance of a hundred million years or so, be able to tell that something extraordinary happened at the moment in time that counts for us as today. This is the case even though a hundred million years from now, all that we consider to be the great works of man—the sculptures and the libraries, the monuments and the museums, the cities and the factories—will be compressed into a layer of sediment not much thicker than cigarette paper. "We have already left a record that is now indelible," Zalasiewicz has written. (105)
—————
The descendants of today's rats, according to Zalasiewicz, will radiate out to fill the niches that Rattus exulans and Rattus norvegicus helped empty. He imagines the rats of the future evolving into new shapes and sizes—some "smaller than shrews," others as large as elephants. "We might," he has written, "include among them—for curiosity's sake and to keep our options open—a species or two of large naked rodent, living in caves, shaping rocks as primitive tools and wearing the skins of other mammals that they have killed and eaten." (106)
—————
Zalasiewicz believes that we have entered a new epoch, which has no analog in earth's history. "Geologically," he has observed, "this is a remarkable episode." (107)
—————
[Dutch chemist Paul Crutzen] wrote up his idea in a short essay, "Geology of Mankind," that ran in Nature. "It seems appropriate to assign the term 'Anthropocene' to the present, in many ways human-dominated, geological epoch," he observed. Among the many geologic-scale changes people have effected, Crutzen cited the following:
Human activity has transformed between a third and a half of the land surface of the planet.
Most of the world's major rivers have been dammed or diverted.
Fertilizer plants produce more nitrogen than is fixed naturally by all terrestrial ecosystems.
Fisheries remove more than a third of the primary production of the oceans' coastal waters.
Humans use more than half of the world's readily accessible fresh water runoff.
Most significantly, Crutzen said, people have altered the composition of the atmosphere. Owing to a combination of fossil fuel combustion and deforestation, the concentration of carbon dioxide in the air has risen by forty percent over the last two centuries, while the concentration of methane, an even more potent greenhouse gas, has more than doubled.
"Because of these anthropogenic emissions," Crutzen wrote, the global climate is likely to "depart significantly from natural behavior for many millennia to come." (108)
—————
Would the Anthropocene satisfy the criteria used for naming a new epoch? (To geologists, an epoch is a subdivision of a period, which, in turn, is a division of an era: the Holocene, for instance, is an epoch of the Quaternary, which is a period in the Cenozoic.) (109)
—————
—————
THE SEA AROUND US: Patella caerulea
Carbon dioxide has many interesting properties, one of which is that it dissolves in water to form an acid. (112)
—————
Since the start of the industrial revolution, humans have burned through enough fossil fuels—coal, oil, and natural gas—to add some 365 billion metric tons of carbon to the atmosphere. Deforestation has contributed another 180 billion tons. Each year, we throw up another nine billion tons or so, an amount that's been increasing by as much as six percent annually. As a result of all this, the concentration of carbon dioxide in the air today—a little over four hundred parts per million—is higher than at any point in the last eight hundred thousand years. Quite probably it is higher than at any point in the last several million years. If current trends continue, CO2 concentrations will top five hundred parts per million, roughly double the levels they were in preindustrial days, by 2050. It is expected that such an increase will produce an eventual average global temperature rise of between three and a half and seven degrees Fahrenheit, and this will, in turn, trigger a variety of world-altering events, including the disappearance of most remaining glaciers, the inundation of low-lying islands and coastal cities, and the melting of the Arctic ice cap. But this is only half the story.
Ocean covers seventy percent of the earth's surface, and everywhere that water and air come into contact there's an exchange. Gases from the atmosphere get absorbed by the ocean and gases dissolved in the ocean are released into the atmosphere. When the two are in equilibrium, roughly the same quantities are being dissolved as are being released. Change the atmosphere's composition, as we have done, and the exchange becomes lopsided: more carbon dioxide enters the water than comes back out. In this way, humans are constantly adding CO2 to the seas, much as the vents do, but from above rather than below and on a global scale. This year alone the oceans will absorb two and a half billion tons of carbon, and next year it is expected they will absorb another two and a half billion tons. Every day, every American in effect pumps seven pounds of carbon into the sea.
Thanks to all this extra CO2, the pH of the oceans' surface waters has already dropped, from an average of around 8.2 to an average of around 8.1. Like the Richter scale, the pH scale is logarithmic, so even such a small numerical difference represents a very large real-world change. A decline of .1 means that the oceans are now thirty percent more acidic than they were in 1800. Assuming that humans continue to burn fossil fuels, the oceans will continue to absorb carbon dioxide and will become increasingly acidified. Under what's known as a "business as usual" emissions scenario, surface ocean pH will fall to 8.0 by the middle of this century, and it will drop to 7.8 by the century's end. At that point, the oceans will be 150 percent more acidic than they were at the start of the industrial revolution. (113-114)
—————
"Because it's so important, we humans put a lot of energy into making sure that the pH of our blood is constant," Hall-Spencer says, raising his voice to be heard over the noise of the running water. "But some of these lower organisms, they don't have the physiology to do that. They've just got to tolerate what's happening outside, and so they get pushed beyond their limits." (116)
—————
"If you ask me what's going to happen in the future, I think the strongest evidence we have is there is going to be a reduction in biodiversity," Riebesell told me. "Some highly tolerant organisms will become more abundant, but overall density will be lost. This is what has happened in all these times of major mass extinction." (120)
—————
To the oceans, as to the human liver, rate matters.
If we were adding CO2 to the air more slowly, geophysical processes, like the weathering of rock, would come into play to counteract acidification. As it is, things are moving too fast for such slow-acting forces to keep up. As Rachel Carson once observed, referring to a very different but at the same time profoundly similar problem: "Time is the essential ingredient, but in the modern world there is no time." (123)
—————
"It is the rate of CO2 release that makes the current great experiment so geologically unusual, and quite probably unprecedented in earth history," Lee Kump, a geologist at Penn State, and Andy Ridgwell, a climate modeler from the University of Bristol, observed in a special issue of the journal Oceanography devoted to acidification. Continuing along this path for much longer, the pair continued, "is likely to leave a legacy of the Anthropocene as one of the most notable, if not cataclysmic events in the history of our planet." (124)
—————
—————
DROPPING ACID: Acropora millepora
Reefs are organic paradoxes—obdurate, ship-destroying ramparts constructed by tiny gelatinous creatures. They are part animal, part vegetable, and part mineral, at once teeming with life and, at the same time, mostly dead.
Like sea urchins and starfish and clams and oysters and barnacles, reef-building corals have mastered the alchemy of calcification. What sets them apart from other calcifiers is that instead of working solo, to produce a shell, say, or some calcitic plates, corals engage in vast communal building projects that stretch over generations. Each individual, known unflatteringly as a polyp, adds to its colony's collective exoskeleton. On a reef, billions of polyps belonging to as many as a hundred different species are all devoting themselves to this same basic task. Given enough time (and the right conditions), the result is another paradox: a living structure. The Great Barrier Reef extends, discontinuously, for more than fifteen hundred miles, and in some places it is five hundred feet thick. By the scale of reefs, the pyramids at Giza are kiddie blocks.
The way corals change the world—with huge construction projects spanning multiple generations—might be likened to the way that humans do, with this crucial difference. Instead of displacing other creatures, corals support them. Thousands—perhaps millions—of species have evolved to rely on coral reefs, either directly for protection or food, or indirectly, to prey on those species that come seeking protection or food. This coevolutionary venture has been under way for many geologic epochs. Researchers now believe it won't last out the Anthropocene. "It is likely that reefs will be the first major ecosystem in the modern era to become ecologically extinct" is how a trio of British scientists recently put it. Some give reefs until the end of the century, others less time even than that. A paper published in Nature by the former head of the One Tree Island Research Station, Ove Hoegh-Guldberg, predicted that if current trends continue, then by around 2050 visitors to the Great Barrier Reef will arrive to find "rapidly eroding rubble banks." (129-130)
—————
One of [Caldeira's] clients was the New York Stock Exchange, for whom he designed a computer program to detect insider trading. The program functioned as it was supposed to, but after a while Caldeira came to believe that the NYSE wasn't really interested in catching insider traders, and he decided to switch professions. (132)
—————
Reefs are often compared to rainforests, and in terms of the sheer variety of life, the comparison is apt. Choose just about any group you like, and the numbers are staggering. An Australian researcher once broke apart a volleyball-sized chunk of coral and found, living inside of it, more than fourteen hundred polychaete worms belonging to 103 different species. More recently, American researchers cracked open chunks of corals to look for crustaceans; in a square meter's worth collected near Heron Island, they found representatives of more than a hundred species, and in a similar-sized sample, collected at the northern tip of the Great Barrier Reef, they found representatives of more than a hundred and twenty. It is estimated that at least half a million and possibly as many as nine million species spend at least part of their lives on coral reefs.
This diversity is all the more astonishing in light of the underlying conditions. Tropical waters tend to be low in nutrients, like nitrogen and phosphorus, which are crucial to most forms of life. (This has to do with what's called the thermal structure of the water column, and it's why tropical waters are often so beautifully clear.) As a consequence, the seas in the tropics should be barren—the aqueous equivalent of deserts. Reefs are thus not just underwater rainforests; they are rainforests in a marine Sahara. The first person to be perplexed by this incongruity was Darwin, and it has since become known as "Darwin's paradox." Darwin's paradox has never been entirely resolved, but one key to the puzzle seems to be recycling. Reefs—or, really, reef creatures—have developed a fantastically efficient system by which nutrients are passed from one class of organisms to another, as at a giant bazaar. Corals are the main players in this complex system of exchange, and, at the same time, they provide the platform that makes the trading possible. Without them, there's just more watery desert. (139-140)
—————
Reef gaps also occurred after the late Devonian and the late Triassic extinctions, and in each of these cases it also took millions of years for reef construction to resume. This correlation has prompted some scientist to argue that reef building as an enterprise must be particularly vulnerable to environmental change—yet another paradox, since reef building is also one of the oldest enterprises on earth. (141)
—————
Islands are worlds in miniature or, as the writer David Quammen observed, "almost a caricature of nature's full complexity." (142)
—————
Like the Jews, the corals of the Great Barrier Reef observe a lunar calendar. Once a year, after a full moon at the start of the austral summer, they engage in what's known as mass spawning—a kind of synchronized group sex. (145)
—————
—————
THE FOREST AND THE TREES: Alzatea verticillata
Consider for a moment the following (purely hypothetical) journey. You are standing on the North Pole one fine spring day. (There is, for the moment, still plenty of ice at the pole, so there's no danger of falling through.) You start to walk, or better yet ski. Because there is only one direction to move in, you have to go south, but you have 360 meridians to choose from. Perhaps, like me, you live in the Berkshires and are headed to the Andes, so you decide that you will follow the seventy-third meridian west. You ski and ski, and finally, about five hundred miles from the pole, you reach Ellesmere Island. All this time, of course, you will not have seen a tree or a land plant of any kind, since you are traveling across the Arctic Ocean. On Ellesmere, you will still not see any trees, at least not any that are recognizable as such. The only woody plant that grows on the island is the Arctic willow, which reaches no higher than your ankle. (The writer Barry Lopez has noted that if you spend much time wandering around the Arctic, you eventually realize "that you are standing on top of a forest.")
As you continue south, you cross the Nares Strait—getting around is now becoming more complicated, but we'll leave that aside—then traverse the westernmost tip of Greenland, cross Baffin Bay, and reach Baffin Island. On Baffin, there is also nothing that would really qualify as a tree, though several species of willow can be found, growing in knots close to the ground. Finally—and you are now roughly two thousand miles into your journey—you reach the Ungava Peninsula, in northern Quebec. Still you are north of the treeline, but if you keep walking for another 250 miles or so, you will reach the edge of the boreal forest. Canada's boreal forest is huge; it stretches across almost a billion acres and represents roughly a quarter of all the intact forest that remains on earth. But diversity in the boreal forest is low. Across Canada's billion acres of it, you will find only about twenty species of tree, including black spruce, white birch, and balsam fir.
Once you enter the United States, tree diversity will begin, slowly, to tick up. In Vermont, you'll hit the Eastern Deciduous Forest, which once covered almost half the country, but today remains only in patches, most of them second-growth. Vermont has something like fifty species of native trees, Massachusetts around fifty-five. North Carolina (which lies slightly to the west of your path) has more than two hundred species. Although the seventy-third meridian misses Central America altogether, it's worth noting that tiny Belize, which is about the size of New Jersey, has some seven hundred native tree species.
The seventy-third meridian crosses the equator in Colombia, then slices through bits of Venezuela, Peru, and Brazil before entering Peru again. At around thirteen degrees south latitude, it passes to the west of Silman's tree plots. In his plots, which collectively have an area roughly the size of Manhattan's Fort Tryon Park, the diversity is staggering. One thousand and thirty-five tree species have been counted there, roughly fifty times as many as in all of Canada's boreal forest.
And what holds for the trees also holds for birds and butterflies and frogs and fungi and just about any other group you can think of (though not, interestingly enough, for aphids). As a general rule, the variety of life is most impoverished at the poles and richest at low latitudes. This pattern is referred to in the scientific literature as the "latitudinal diversity gradient," or LDG, and it was noted already by the German naturalist Alexander von Humboldt, who was amazed by the biological splendors of the tropics, which offer "a spectacle as varied as the azure vault of the heavens." (151-152)
—————
It is now generally believed that ice ages are initiated by small changes in the earth's orbit, caused by, among other things, the gravitational tug of Jupiter and Saturn. (160)
—————
In ecology, rules are hard to come by. One of the few that's universally accepted is the "species-area relationship," or SAR, which has been called the closest thing the discipline has to a periodic table. In its broadest formulation, the species-area relationship seems so simple as to be almost self-evident. The larger the area you sample, the greater the number of species you will encounter.
[…]
The correlation between the number of species and the size of the area is not linear. Rather, it's a curve that slopes in a predictable way. (165)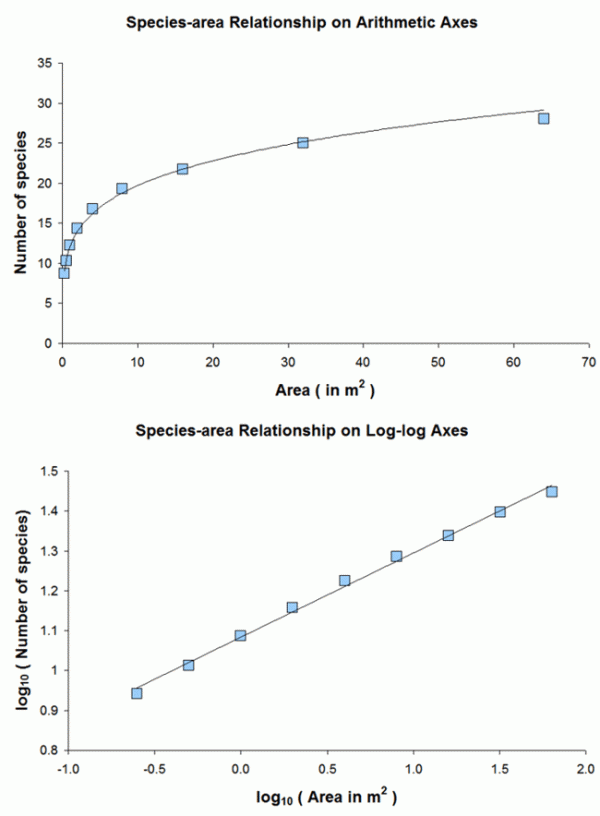 —————
—————
ISLANDS ON DRY LAND: Eciton burchellii
Currently, about fifty million square miles of land on the planet are ice-free, and this is the baseline that's generally used for calculating human impacts. According to a recent study published by the Geological Society of America, people have "directly transformed" more than half of this land—roughly twenty-seven million square miles—mostly by converting it to cropland and pasture, but also by building cities and shopping malls and reservoirs, and by logging and mining and quarrying. Of the remaining twenty-three million square miles, about three-fifths is covered by forest—as the authors put it, "natural but not necessarily virgin"—and the rest is either high mountains or tundra or desert. According to another recent study, published by the Ecological Society of America, even such dramatic figures understate our impact. The authors of the second study, Erle Ellis of the University of Maryland and Navin Ramankutty of McGill, argue that thinking in terms of biomes defined by climate and vegetation—temperate grasslands, say, or boreal forests—no longer makes sense. Instead, they divide the world up into "anthromes." There is an "urban" anthrome that stretches over five hundred thousand square miles, an "irrigated cropland" anthrome (a million square miles), and a "populated forest" (four and a half million square miles). Ellis and Ramankutty count a total of eighteen "anthromes," which together extend over thirty-nine million square miles. This leaves outstanding some eleven million square miles. These areas, which are mostly empty of people and include stretches of the Amazon, much of Siberia and northern Canada, and significant expanses of the Sahara, the Gobi, and the Great Victoria deserts, they call "wildlands." (176)
—————
At the time of our trip, Cohn-Haft was getting ready to publish a paper identifying several new species he had discovered through rigorous listening. One of these, a nocturnal bird in the potoo family, has a sad, haunting call, which locals sometimes attribute to the curupira, a figure from Brazilian folklore. The curupira has a boyish face, copious hair, and backward-pointing feet. He preys on poachers and anyone else who takes too much from the forest. (178)
—————
"The first result that kind of surprised everyone, although it's sort of trivial in the grand scheme of things, was kind of a refugee effect," he said, as we stood in the shadows. "What happened when you cut down the surrounding forest is that the capture rate—just the number of birds you captured and the number of species sometimes, too—went up for about the first year." Apparently, birds from the deforested areas were seeking shelter in the fragments. But gradually as time went on, both the number and the variety of birds in the fragments started to drop. And then it kept on dropping.
"In other words," Cohn-Haft said, "there wasn't just suddenly this new equilibrium with fewer species. There was this steady degradation in the diversity over time." And what went for birds went for other groups as well. (179)
—————
From a single species of tree, Luehea seemannii, he had collected beetles belonging to more than 950 species. Figuring that about a fifth of these beetles depended on Luehea seemannii, that other beetles similarly depended on other trees, that beetles represent about forty percent of all insect species, and that there are roughly fifty thousand species of tropical trees, Erwin estimated that the tropics were home to as many as thirty million species of arthropods. (In addition to insects, the group includes spiders and centipedes.) He was, he acknowledged, "shocked" by his own conclusion.
Since then, many efforts have been made to refine Erwin's estimates. Most have tended to revise the numbers downward. (Among other things, Erwin probably overstated the proportion of insects dependent on a single host plant.) Still, by all accounts, the figure remains shockingly high: recent estimates suggest there are at least two million tropical insect species and perhaps as many as seven million. By comparison, there are only about ten thousand species of birds in the entire world and only fifty-five hundred species of mammals. Thus for every species with hair and mammary glands, there are, in the tropics alone, at least three hundred with antennae and compound eyes.
The richness of its insect fauna means that any threat to the tropics translates into very high numbers of potential victims. Consider the following calculation. Tropical deforestation is notoriously difficult to measure, but let's assume that the forests are being felled at a rate of one percent annually. Using the species-area relationship, S = cAᶻ, and setting the value of z at .25, we can calculate that losing one percent of the original area implies the loss of roughly a quarter of a percent of the original species. If we assume, very conservatively, that there are two million species in the tropical rainforests, this means that something like five thousand species are being lost each year. This comes to roughly fourteen species a day, or one every hundred minutes.
This exact calculation was performed by E. O. Wilson in the late nineteen-eighties, not long after one of his trips to the BDFFP. Wilson published the results in Scientific American, and on the basis of them he concluded that the contemporary extinction rate was "on the order of 10,000 times greater than the naturally occurring background rate." This, he further observed, was "reducing biological diversity to its lowest level" since the end-Cretaceous extinction, an event, he noted, that while not the worst mass extinction in history, was "by far the most famous, because it ended the age of the dinosaurs, conferred hegemony on the mammals and ultimately, for better or worse, made possible the origin of our own species."
Like Erwin's, Wilson's calculations were shocking. They were also easy to grasp, or at least to repeat, and they received a great deal of attention, not just in the relatively small world of tropical biologists but also in the mainstream media. "Hardly a day passes without one being told that tropical deforestation is extinguishing roughly one species every hour, or maybe even one every minute," a pair of British ecologists lamented. Twenty-five years later, it's now generally agreed that Wilson's figures—here again like Erwin's—don't match observation, a fact that should be chastening to science writers perhaps even more than to scientists. What the reasons are for this continue to be debated. (185-186)
—————
—————
THE NEW PANGAEA: Myotis lucifugus
The best time to take a bat census is the dead of winter. Bats are what are known as "true hibernators"; when the mercury drops, they begin looking for a place to settle down, or really upside down, since bats in torpor hang by their toes. In the northeastern United States, the first bats to go into hibernation are usually the little browns. Sometime in late October or early November, they seek out a sheltered space, like a cave or a mineshaft, where conditions are likely to remain stable. The little browns are soon joined by the tricolored bats and then by the big browns and the small-footed bats. The body temperature of a hibernating bat drops by fifty or sixty degrees, often to right around freezing. Its heartbeat slows, its immune system shuts down, and the bat, dangling by its feet, falls into a state close to suspended animation. Counting hibernating bats demands a strong neck, a good headlamp, and a warm pair of socks. (193)
—————
Without human help, long-distance travel is for most species difficult, bordering on impossible. This fact was, to Darwin, central. His theory of descent with modification demanded that each species arise at a single place of origin. To spread from there, it either slithered or swam or loped or crawled or cast its seeds upon the wind. Given a long enough time, even a sedentary organism, like, say, a fungus, could, Darwin thought, become widely dispersed. But it was the limits of dispersal that made things interesting. These accounted for life's richness and, at the same time, for the patterns that could be discerned amid the variety. The barriers imposed by the oceans, for instance, explained why vast tracts of South America, Africa, and Australia, though in Darwin's words "entirely similar" in climate and topography, were populated by entirely dissimilar flora and fauna. The creatures on each continent had evolved separately, and in this way, physical isolation had been transmuted into biological disparity. Similarly, the barriers imposed by land explained why the fish of the eastern Pacific were distinct from the fish of the western Caribbean, though these two groups were, as Darwin wrote, "separated only by the narrow, but impassable, isthmus of Panama." On a more local level, the species found on one side of a mountain range or a major river were often different from the species found on the other, though usually—and significantly—they were related. Thus, for example, Darwin noted, "the plains near the Straits of Magellan are inhabited by one species of Rhea, and northward the plains of La Plata by another species of the same genus, and not by a true ostrich or emu, like those found in Africa and Australia." (195-196)
—————
"The continents must have shifted," [German meteorologist Alfred Wegener] wrote. "South America must have lain alongside Africa and formed a unified block. . . . The two parts must then have become increasingly separated over a period of millions of years like pieces of a cracked ice floe in water." At one time, Wegener hypothesized, all of the present-day continents had formed one giant supercontinent, Pangaea. Wegener's theory of "continental drift," widely derided during his lifetime, was, of course, to a large extent vindicated by the discovery of plate tectonics.
One of the striking characteristics of the Anthropocene is the hash it's made of the principles of geographic distribution. If highways, clear-cuts, and soybean plantations create islands where none before existed, global trade and global travel do the reverse: they deny even the remotest islands their remoteness. The process of remixing the world's flora and fauna, which began slowly, along the routes of early human migration, has, in recent decades, accelerated to the point where in some parts of the world, non-native plants now outnumber native ones. During any given twenty-four-hour period, it is estimated that ten thousand different species are being moved around the world just in ballast water. Thus a single supertanker (or, for that matter, a jet passenger) can undo millions of years of geographic separation. Anthony Ricciardi, a specialist in introduced species at McGill University, has dubbed the current reshuffling of the earth's biota a "mass invasion event." It is, he has written, "without precedent" in the planet's history. (197-198)
—————
grifter (n.)
a petty swindle.
One possibility is that for species, as for grifters, there are advantages to remaining on the move. (202)
—————
This sort of it-takes-an-invasive-to-catch-an-invasive strategy has a decidedly mixed record. In some cases it's proven highly successful; in other it's turned out to be another ecological disaster. To the latter category belongs the rosy wolfsnail—Euglandina rosea—which was introduced to Hawaii in the late nineteen-fifties. The wolfsnail, a native of Central America, was brought in to prey on a previously introduced species, the giant African snail—Achatina fulica—which had become an agricultural pest. Euglandina rosea mostly left Achatina fulica alone and focused its attention instead on Hawaii's small, colorful native snails. Of the more than seven hundred species of endemic snails that once inhabited the islands, something like ninety percent are now extinct, and those that remain are in steep decline. (203)
—————
The author David Quammen cautions that while it is easy to demonize the brown tree snake, the animal is not evil; it's just amoral and in the wrong place. What Boiga irregularis has done in Guam, he observes, "is precisely what Homo sapiens has done all over the planet: succeeded extravagantly at the expense of other species." (204)
—————
Almost all the grasses in American lawns come from somewhere else, including Kentucky bluegrass. (205)
—————
Already one plant species, Poa annua, a grass from Europe, has established itself on Antarctica; since Antarctica has only two native vascular plant species, this means that a third of its vascular plants are now invaders. (207)
—————
From the standpoint of the world's biota, global travel represents a radically new phenomenon and, at the same time, a replay of the very old. The drifting apart of the continents that Wegener deduced from the fossil record is now being reversed—another way in which humans are running geologic history backward and at high speed. Think of it as a souped-up version of plate tectonics, minus the plates. By transporting Asian species to North America, and North American species to Australia, and Australian species to Africa, and European species to Antarctica, we are, in effect, reassembling the world into one enormous supercontinent—what biologists sometimes refer to as the New Pangaea. (208)
—————
The Center for Invasive Species Research, which is based at the University of California-Riverside, estimates that California is now acquiring a new invasive species every sixty days. This is slow compared to Hawaii, where a new invader is added each month. (For comparison's sake, it's worth noting that before humans settled Hawaii, new species seem to have succeeded in establishing themselves on the archipelago roughly once every ten thousand years.)
The immediate effect of all this reshuffling is a rise in what might be called local diversity. Pick any place on earth—Australia, the Antarctic Peninsula, your local park—and, more likely than not, over the last few hundred years the number of species that can be found in the area has grown. Before humans arrived on the scene, many whole categories of organisms were missing from Hawaii; these included not only rodents but also amphibians, terrestrial reptiles, and ungulates. The islands had no ants, aphids, or mosquitoes. People have, in this sense, enriched Hawaii greatly. But Hawaii was, in its prehuman days, home to thousands of species that existed nowhere else on the planet, and many of these endemics are now gone or disappearing. The losses include, in addition to the several hundred species of land snails, dozens of species of birds and more than a hundred species of ferns and flowering plants. For the same reasons that local diversity has, as a general rule, been increasing, global diversity—the total number of different species that can be found worldwide—has dropped. (211-212)
—————
Since Elton's day, ecologists have tried to quantify the effects of total global homogenization by means of a thought experiment. The experiment starts with the compression of all the world's landmasses into a single megacontinent. The species-area relationship is then used to estimate how much variety such a landmass would support. The difference between this figure and the diversity of the world as it actually is represents the loss implied by complete interconnectedness. In the case of terrestrial mammals, the difference is sixty-six percent, which is to say that a single-continent world would be expected to contain only about a third as many mammalian species as currently exist. For land birds, it's just under fifty percent, meaning such a world would contain half as many bird species as the present one.
If we look even farther ahead than Elton did—millions of years farther—the biological world will, in all likelihood, become more complex again. Assuming that eventually travel and global commerce cease, the New Pangaea will, figuratively speaking, begin to break up. The continents will again separate, and islands will be re-isolated. And as this happens, new species will evolve and radiate from the invasives that have been dispersed around the world. Hawaii perhaps will get giant rats and Australia giant bunnies. (213)
—————
—————
THE RHINO GETS AN ULTRASOUND: Dicerorhinus sumatrensis
[R]hinos are most closely related to horses.
—————
Megaherbivores generate mega amounts of shit, as is clear to anyone who's ever spent time standing behind a rhino. (231)
—————
When the Maori reached New Zealand, around the time of Dante, they found nine species of moa living on the North and South Islands. By the time European settlers arrived, in the early eighteen hundreds, not a single moa was to be seen. What remained were huge middens of moa bones, as well as the ruins of large outdoor ovens—leftovers of great, big bird barbecues. A recent study concluded that the moas were probably eliminated in a matter of decades. A phrase survives in Maori referring, obliquely, to the slaughter: Kua ngaro i te ngaro o te moa. Or "lost as the moa is lost." (232)
—————
How could small bands of technologically primitive people have wiped out so many large, strong, and in some cases fierce animals over an area the size of Australia or North America?
John Alroy, an American paleobiologist who now works at Australia's Macquarie University, has spent a lot of time thinking about this question, which he considers a mathematical one. "A very large mammal is living on the edge with respect to its reproductive rate," he told me. "The gestation period of an elephant, for example, is twenty-two months. Elephants don't have twins, and they don't start to reproduce until they're in their teens. So these are big, big constraints on how fast they can reproduce, even if everything is going really well. And the reason they're able to exist at all is that when animals get to a certain size they escape from predation. They're no longer vulnerable to being attacked. It's a terrible strategy on the reproductive side, but it's a great advantage on the predator-avoidance side. And that advantage completely disappears when people show up. Because no matter how big an animal is, we don't have a constraint on what we can eat." (233)
—————
"Mammoth became a luxury food, something you could enjoy once in a while, like a large truffle." (233)
—————
[American paleobiologist John Alroy] has described the megafauna extinction as a "geologically instantaneous ecological catastrophe too gradual to be perceived by the people who unleashed it." It demonstrates, he has written, that humans "are capable of driving virtually any large mammal species extinct, even though they are also capable of going to great lengths to guarantee that they do not."
—————
Though it might be nice to imagine there once was a time when man lived in harmony with nature, it's not clear that he ever really did. (235)
—————
—————
THE MADNESS GENE: Homo neanderthalensis
The Neander Valley, or, in German, das Neandertal, lies about twenty miles north of Cologne, along a fold in the Düssel River, a sleepy tributary of the Rhine. For most of its existence, the valley was lined with limestone cliffs, and it was in a cave in the face of one of these cliffs that, in 1856, the bones were discovered that gave the world the Neanderthal. Today the valley is a sort of paleolithic theme park. (236)
—————
[A]s one researcher put it to me, "their bad luck was us." (237)
—————
Before humans finally did in the Neanderthals, they had sex with them. As a result of this interaction, most people alive today are slightly—up to four percent—Neanderthal. A T-shirt available for sale near the Morphing Station puts the most upbeat spin possible on this inheritance. ICH BIN STOLZ, EIN NEANDERTHALER ZU SEIN, it declares in block capital letters. ("I am proud to be a Neanderthal.") I liked the T-shirt so much I bought one for my husband, though recently I realized that I've very rarely seen him wear it. (238)
—————
Pääbo, who is Swedish, is sometimes called the "father of paleogenetics." He more or less invented the study of ancient DNA. (239)
—————
Sequencing the dead is a whole lot more difficult. When an organism expires, its genetic material begins to break down, so that instead of long strands of DNA, what's left, under the best of circumstances, are fragments. Trying to figure out how all the fragments fit together might be compared to trying to reassemble a Manhattan telephone book from pages that have been put through a shredder, mixed with yesterday's trash, and left to rot in a landfill. (240)
—————
In the nineteen-fifties, a pair of anatomists, William Straus and Alexander Cave, decided to reexamine the skeleton from La Chapelle. World War II—not to mention World War I—had shown the sort of brutishness the most modern of modern humans were capable of, and Neanderthals were due for a reappraisal. What Boule had taken for the Neanderthal's natural posture, Straus and Cave determined, was probably a function of arthritis. Neanderthals did not walk with a slouch or with bent knees. Indeed, given a shave and a new suit, the pair wrote, a Neanderthal probably would attract no more attention on a New York City subway "than some of its other denizens." More recent scholarship has tended to support the idea that Neanderthals, if not necessarily up to riding incognito on the IRT, certainly walked upright, with a gait we would recognize more or less as our own. (243)
—————
"Neanderthan man was not some prehistoric Rambo," one of the display tags admonishes. "He was an intelligent individual." (244)
—————
In order to extract DNA, Pääbo, or any other paleogeneticist, has to cut up samples of bone and then dissolve them, a process that, for fairly obvious reasons, museums and fossil collectors are hesitant to sanction. (245)
—————
Specifically, Europeans and Asians shared more DNA with Neanderthals than did Africans. "We tried to make this result go away," Reich told me. "We thought, 'This must be wrong.'"
[…]
When he finally came around to the idea that Neanderthals bequeathed some of their genes to modern humans, he told me, "I thought it was very cool. It means that they are not totally extinct—that they live on a little bit in us." (246-247)
—————
For the benefit of the cameras, a researcher named Héctor Marín Manrique was reenacting a series of experiments he'd performed earlier in a more purely scientific spirit. A female orangutan named Dokana was led into one of the testing rooms. Like most orangutans, she had copper-colored fur and a world-weary expression. In the first experiment, which involved red juice and skinny tubes of plastic, Dokana showed that she could distinguish a functional drinking straw from a non-functional one. In the second, which involved more red juice and more plastic, she showed that she understood the idea of a straw by extracting a solid rod from a length of piping and using the now-empty pipe to drink through. Finally, in a Mensa-level display of pongid ingenuity, Dokana managed to get at a peanut that Manrique had placed at the bottom of a long plastic cylinder. (The cylinder was fixed to the wall, so it couldn't be knocked over.) She fist-walked over to her drinking water, took some water in her mouth, fist-walked back, and spat into the cylinder. She repeated the process until the peanut floated within reach. Later, I watched the BBC crew restage this experiment with some five-year-old children, using little plastic containers of candy in place of peanuts. Even though a full watering can had been left conspicuously nearby, only one of the kids—a girl—managed to work her way to the floating option, and this was after a great deal of prompting. ("How would water help me?" one of the boys asked querulously, just before giving up.)
One way to try to answer the question "What makes us human?" is to ask "What makes us different from great apes?" or, to be more precise, from nonhuman apes, since, of course, humans are apes. As just about every human by now knows—and as the experiments with Dokana once again confirm—nonhuman apes are extremely clever. They're capable of making inferences, of solving complex puzzles, and of understanding what other apes are (and are not) likely to know. When researchers from Leipzig performed a battery of tests on chimpanzees, orangutans, and two-and-a-half-year-old children, they found that the chimps, the orangutans, and the kids performed comparably on a wide range of tasks that involved understanding of the physical world. For example, if an experimenter placed a reward inside one of three cups, and then moved the cups around, the apes found the goody just as often as the kids—indeed, in the case of chimps, more often. The apes seemed to grasp quantity as well as the kids did—they consistently chose the dish containing more treats, even when the choice involved using what might loosely be called math—and also seemed to have just as good a grasp of causality. (The apes, for instance, understood that a cup that rattled when shaken was more likely to contain food than one that did not.) And they were equally skillful at manipulating simple tools.
Where the kids routinely outscored the apes was in tasks that involved reading social cues. When the children were given a hint about where to find a reward—someone pointing to or looking at the right container—they took it. The apes either didn't understand that they were being offered help or couldn't follow the cue. Similarly, when the children were shown how to obtain a reward, by, say, ripping open a box, they had no trouble grasping the point and imitating the behavior. The apes, once again, were flummoxed. Admittedly, the kids had a big advantage in the social realm, since the experimenters belonged to their own species. But, in general, apes seem to lack the impulse toward collective problem-solving that's so central to human society.
"Chimps do a lot of incredibly smart things," Michael Tomasello, who heads the institute's department of developmental and comparative psychology, told me. "But the main difference we've seen is 'putting our heads together.' If you were at the zoo today, you would never have seen two chimps carry something heavy together. They don't have this kind of collaborative project." (248-249)
—————
Archaic humans like Homo erectus "spread like many other mammals in the Old World," Pääbo told me. "They never came to Madagascar, never to Australia. Neither did Neanderthals. It's only fully modern humans who start this thing of venturing out on the ocean where you don't see land. Part of that is technology, of course; you have to have ships to do it. But there is also, I like to think or say, some madness there. You know? How many people must have sailed out and vanished on the Pacific before you found Easter Island? I mean, it's ridiculous. And why do you do that? Is it for the glory? For immortality? For curiosity? And now we go to Mars. We never stop." (251)
—————
—————
THE THING WITH FEATHERS: Homo sapiens
"Futurology has never been a very respectable field of inquiry," the author Jonathan Schell has written. (259)
—————
The po`ouli was once described to me as "the most beautiful not particularly beautiful bird in the world." (260)
—————
I think of the hundreds of bat corpses collected from the floor of Aeolus Cave that were shipped to the Cryo Collection of the American Museum of Natural History. I try to calculate how many little plastic vials and vats of liquid nitrogen would be required to store cultures of all of the frogs threatened by chytrid and the corals threatened by acidification and the pachyderms threatened by poaching, and the multitudinous species threatened by warming and invasives and fragmentation, and soon I give up; there are too many numbers to keep in my head. (261)
—————
Certainly humans can be destructive and shortsighted; they can also be forward-thinking and altruistic. Time and time again, people have demonstrated that they care about what Rachel Carson called "the problem of sharing our earth with other creatures," and that they're willing to make sacrifices on those creatures' behalf. (261)
—————
The director of a conservation group in Alaska once put it to me this way: "People have to have hope. I have to have hope. It's what keeps us going." (263)
—————
Kinohi's tragicomic sex life provides more evidence—if any more was needed—of how seriously humans take extinction. Such is the pain the loss of a single species causes that we're willing to perform ultrasounds on rhinos and handjobs on crows. Certainly the commitment of people like Terri Roth and Barbara Durrant and institutions like the Cincinnati and the San Diego Zoos could be invoked as reason for optimism. And if this were a different kind of book, I would.
Though many of the preceding chapters have been devoted to the extinction (or near-extinction) of individual organisms—the Panamanian golden frog, the great auk, the Sumatran rhino—my real subject has been the pattern they participate in. What I've been trying to do is trace an extinction event—call it the Holocene extinction, or the Anthropocene extinction, or, if you prefer the sound of it, the Sixth Extinction—and to place this event in the broader context of life's history. That history is neither strictly uniformitarian nor catastrophist; rather, it is a hybrid of the two. What this history reveals, in its ups and its downs, is that life is extremely resilient but not infinitely so. There have been very long uneventful stretches and very, very occasionally "revolutions on the surface of the earth."
To the extent that we can identify the causes of these revolutions, they're highly varied: glaciation in the case of the end-Ordovician extinction, global warming and changes in ocean chemistry at the end of the Permian, an asteroid impact in the final seconds of the Cretaceous. The current extinction has its own novel cause: not an asteroid or a massive volcanic eruption but "one weedy species." As Walter Alvarez put it to me, "We're seeing right now that a mass extinction can be caused by human beings."
The one feature these disparate events have in common is change and, to be more specific, rate of change. When the world changes faster than species can adapt, many fall out. This is the case whether the agent drops from the sky in a fiery streak or drives to work in a Honda. To argue that the current extinction event could be averted if people just cared more and were willing to make more sacrifices is not wrong, exactly; still, it misses the point. It doesn't much matter whether people care or don't care. What matters is that people change the world.
This capacity predates modernity, though, of course, modernity is its fullest expression. Indeed, this capacity is probably indistinguishable from the qualities that made us human to begin with: our restlessness, our creativity, our ability to cooperate to solve problems and complete complicated tasks. As soon as humans started using signs and symbols to represent the natural world, they pushed beyond the limits of that world. "In many ways human language is like the genetic code," the British paleontologist Michael Benton has written. "Information is stored and transmitted, with modifications, down the generations. Communication holds societies together and allows humans to escape evolution." Were people simply heedless or selfish or violent, there wouldn't be an Institute for Conservation Research, and there wouldn't be a need for one. If you want to think about why humans are so dangerous to other species, you can picture a poacher in Africa carrying an AK-47 or a logger in the Amazon gripping an ax, or, better still, you can picture yourself, holding a book on your lap. (265-266)
—————
[I]n life, as in mutual funds, past performance is no guarantee of future results. (268)